By Tamara Speidel
As a mom and wife, I know the importance of being prepared for the unexpected. Especially when my family is 1500+ miles away from home. Thankfully, my daughter is older and I no longer need to tote along a diaper bag or toys on our trips. For those of you who are doing Disney with kids who aren't school-aged yet or who are still in diapers, I salute you with a sincere "Bless your heart!" Seriously, I do not envy you. While I wish that I could have convinced my husband to head to WDW many years ago, I can recognize the blessing it is that my daughter was well beyond the diaper and toddler stage for her first trip. Clearly, divine intervention is what kept me from bringing a young child to Disney World . . . some higher authority knew I would not have had the strength/patience/perseverance/fill-in-the-blank to survive it. This post may not be as helpful for you parents of wee ones, but hopefully, it will help you plan for what to bring for yourself and any other loved ones who accompany you to the park.
I realize there are some people out there who can, thanks to Magic Bands, travel very lightly in the parks. They slap their Magic Band on, shove their smartphone in their pocket and stroll through the turnstiles without having to wait in the bag check line. Those people are usually men (no offense guys), teenagers, or incredibly laid back ladies . . . and I envy them. I wish that I could be so relaxed in my approach to Disney. Alas, anyone who knows me can attest – I am a certified, genuine, type-A planner. I cannot relax. Like, ever. I am a mess without structure, plans, and preparation. Even on a lazy day at home. But, I digress.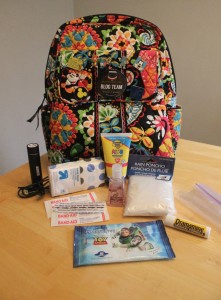 When I travel to Disney World, I have a special park-touring bag (thank you, Vera Bradley, for making such cute and fashionable Mickey themed bags!), which has its own special checklist of items to put in it. My park touring bag goes everywhere with me on our trip. Yes, it means that it takes a few extra minutes to get through the bag check, but I find the security cast members to be quite fun to chat with. Plus, I do enjoy being the hero of the day when someone in our group ends up with Mickey Premium Ice Cream Bar drips on their shirt and I can save the day with my stain-removing prowess!
The items I include in my touring bag can be broken down into three categories: tech gadgets, personal care, and miscellaneous.
Tech Gadgets
Would you call me Captain Obvious if I told you that you must bring your smartphone? While I am usually very judgy of those who constantly have their noses in their phones, one must be tied to it for much of their vacation in "the World." Disney has embraced technology to such a degree that it is very difficult to tour effectively without the ever-present smartphone. You can check wait times, book reservations for meals and Fast Pass+, pull up park maps, look up showtimes all from the My Disney Experience app on your phone. There is free Wi-Fi in the parks, but this still can put a big strain on your battery. Which brings me to the next item on my tech gadget list – an external battery charger. I use a lipstick-sized portable charger, which I purchased from Amazon. It is fast, easy to use, and keeps me connected. You know, so that other judgy people (like me) can judge my constant phone usage.
Because I am a such a fitness buff (LIE!) I want to keep track of my workouts while at Disney World. Hahahaha! Just kidding. I actually hate to work out. A while ago I got a Fitbit – one of those bracelet things that tracks my steps and rewards me with a weird vibrating sensation when I hit 10,000 steps in one day (and therefore serves as a constant reminder that I am a sedentary sloth). I am happy to report that on our last WDW trip I was rewarded with the "good vibrations" of hitting 10,000 steps before lunchtime every single day! This serves as a perfect rationale for why I need to take a WDW vacation several times per year (sadly, the husband is not in agreement – boo hiss!). Hitting your daily goal helps to negate the calories of the Mickey Premium Ice Cream Bars and Mickey Pretzels you consume during your trip.
Now, I realize that Smart Phones have a camera built in and most people are just fine using that to capture their memories. I, however, am not one of those people. I prefer the higher quality photos that my Canon DSLR takes to my iPhone's pictures. So, that means that I lug a heavier camera along with me in the parks. I make sure to keep a memory card of 32GB or higher in my camera while visiting WDW.
Personal Care
Earlier, I mentioned that while vacationing in Disney World I regularly surpass my daily 10,000-step goal. In fact, I usually walk 12+ miles per day. Sometimes this can result in a blister or two, so band-aids are imperative! We have had great results with Band-Aid brand specialized blister bandages. They are easy to apply and stay put for a long time.
Hand sanitizer and antibacterial wipes are always within arm's reach in my daily life as it is (I work in an elementary school and often say the phrase, "Just because your finger fits in there doesn't mean it belongs in there.") so having these items with me in WDW is a no brainer. Have you ever noticed how many kids put their mouths on chains, ropes, railings, or tables in WDW? Have you ever noticed how many people just scurry out of the bathrooms to get to their next Fast Pass+ without washing their hands? (Gross. Please wash your hands after using the restroom.) After holding onto the lap bar while careening through Big Thunder Mountain Railroad, you will be glad to have some hand sanitizer to clean your hands as you walk to your next attraction. I use the antibacterial wipes to wipe down the table at quick service eateries we stop at, especially during busy times when cast members may not have had the time to properly clean the surface.
Occasionally, the hot sun, the theme park snacks, or my "Type-A" touring behavior creates a need for medication. I keep pain reliever (ibuprofen or acetaminophen) and tummy remedies (Pepto Bismol or GasX) in my bag as well. My husband is not a thrill ride kind of guy so, because he is a good sport and will usually humor my daughter and I with a ride on Space Mountain, we also carry motion sickness medicine.
Florida is the Sunshine State. No matter what time of year you visit, you will need sunscreen! Slather it on before you leave for the parks and reapply it often while you are in the parks. Trust me. Don't be "that guy" who is red as a lobster and miserable. You spent a lot of money on this trip and you deserve to enjoy it! While we are talking about the bright Florida sun I would be remiss if I did not encourage you to also bring a hat (I bring a baseball cap which also saves me time getting ready in the morning – I don't have to do my hair!) and sunglasses.
The last of my personal care items is a small pack of tissues. If you must know, I get a bit teary-eyed when I first arrive on Main Street and again during the evening fireworks show. I am shamefully sentimental. Sniff, sniff.
Miscellaneous
These last few items don't fit nicely into one category but they are still mainstays of my park-touring bag.
Zip-top baggies in a half gallon and gallon sizes are helpful to save some kinds of leftovers for snacking on later (I have used mine for uneaten pastries from table service breakfasts, half-eaten Mickey pretzels, etc.) or to protect your cameras or cell phones on water rides.
I know I said that Florida is the Sunshine State, but it also rains quite a bit (daily if you're there during some months). Ponchos are a necessity for this reason. An added bonus is that they come in handy if you want to stay dry on water rides like Kali River Rapids in Animal Kingdom or in the front seat of Splash Mountain in the Magic Kingdom. I buy mine ahead of time at the dollar store so I don't get stuck paying big bucks for Disney brand ponchos. I don't like lugging soggy ponchos around so the ones from the dollar store can be tossed in the trash without guilt after they have served their purpose. But, if you want to save yours for another rainstorm you can always put it in the aforementioned zip-top baggies!
It can be easy to get dehydrated while having fun in the parks. Since I can (sometimes) be frugal, I always bring a refillable water bottle with me. Florida water is really gross, by the way. It tastes the way sulfur smells. Blech! Our family uses the Brita brand water bottles since they come with a built-in filter and successfully remove the nasty taste of Florida water. You can refill them at drinking fountains, sinks, or with the FREE cups of ice water you can get from any restaurant or vendor cart in WDW.
Last but not least, you must pack stain wipes! While cast members work hard to keep the parks sparkly clean, it never fails that someone in our group sits in something icky left behind on a bench, seat, or curb. We also like to indulge in Mickey Premium Ice Cream Bars throughout our visits. No matter how hungry we are or how quickly we eat them, there will inevitably be a drip or two of melted ice cream or chocolate on someone's clothes. Grab a stain wipe, do a quick dab dab and you've circumvented a lifelong stain. Hurray!
All park guests are unique individuals and will likely have different ideas of what they consider necessities for park-touring but hopefully, you've found my recommendations for what to bring into the parks helpful. As we continue to visit WDW and our family's needs and habits change, I am sure we will revise and update this list. In the meantime, may you always be prepared and have magical visits to WDW!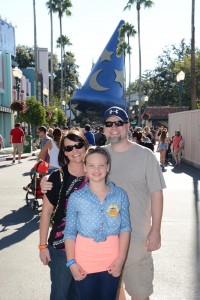 Tamara is a "Type-A Disney Nerd" who spends her free time planning her family's next trip to Walt Disney World, talking about Disney, or reading about Disney.