By Rebecca Toon
Full Disclosure: I am a woman and I love a bargain.
Confession: My definition of the word bargain is often questionable at best.
Reiteration: I am a woman. I reserve the right to be questionable.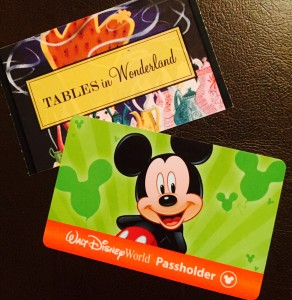 In September, I made the decision to upgrade to an Annual Pass (AP) when our, "4-Day-Couples-Only-Food & Wine Festival" trip turned into an "11-Day-Everyone-Including-My-Parents-And-Best-Friends-Let's-Celebrate-Everything" trip.
Before taking the AP plunge, I spent a fair amount of time evaluating the cost to benefit ratio, partially because I wanted to make certain it was the best deal for me, but mostly because I'm a total geek who loves numbers almost as much as wine.
Annual Passes are good for 366 days from the date of activation. So, by purchasing my AP in late September, I have an entire year (and 1 day!) to make unscheduled, but delightfully impulsive trips to my happy place.
Generally speaking, an Annual Pass is worth investing in if you will be visiting the parks for more than 11 days in a 12-month (and 1 day!) timespan (Disclaimer: your actual mileage may vary). Occasionally, they are worth the cost for shorter stays when you factor in the discounts that are often available (but never guaranteed) to AP holders. These discounts typically include reduced rates on resorts, discounts on entertainment and merchandise, and free parking. Also, Annual Passholders currently receive a two-week early registration window for runDisney events. Another significant benefit is the opportunity to buy a Tables in Wonderland card that saves 20% at many of Disney's full-service restaurants.
For our visit in September, I had purchased a 7-day Park Hopper as part of our vacation package. Since I was the only one likely to return enough times to make an AP cost-efficient, I was the only person who needed to upgrade. The awesome thing is, if you visit customer service before using the final day of your park ticket, Disney will credit you with the entire value of your previously purchased ticket towards the purchase of your Annual Pass! That means if you paid $425 for your park ticket and the cost of the AP is $696, you only pay an additional $271 to upgrade to an Annual Pass. (Note: Your AP will then expire 366 days from the activation of your original park ticket.)
Once your AP is activated, you can then start finding excuses to go back. Trust me, it's easier than you might think! Perhaps you're really missing the corndog nuggets at Casey's Corner, or maybe you're tired of the snow in Connecticut (even if you don't live there), or in desperate need of a jalapeño pretzel. Maybe your daughter's birthday is coming up and you want to buy her that new Alex & Ani bracelet. It's even possible that one day out of the blue your girlfriends will call and ask if you want to head down for the 24-Hour Event to kick off the Coolest Sumer Ever…
Alright, alright, I hear you there in the back. You're screaming, "But Rebecca, what about numbers?? Won't someone think of the numbers!?" Well, I visited the parks for 11 days in September 2014, and in 2015 I'll be visiting for 4 days in May, 5 days in August, and 5 days in September. If I were to purchase park hoppers for each of those stays, I would spend over $1,600. Instead, I purchased an Annual Pass for $696 – that's a savings of over $950! And that doesn't even include the AP discount for hotels, or the 10% discount on that lovely Dooney & Bourke wristlet I've had my eye on, or the Tables in Wonderland card I purchased. So really, the way I see it, I'm practically making money on this deal! (Please see confession and reiteration at the beginning of this blog entry.)
Right then, I'll just leave you here to do your own math…I have a plane to Orlando to catch 😉
Rebecca is a Disneyphile, Technophile, and would-be Foodie. She loves food, wine, and motherhood – not always in that order. She lives in Connecticut with her better half and two miniature adults that insist on calling her mom.

If you'd like to follow her adventures, you can find her on:
Facebook: https://www.facebook.com/beccaberry73
Twitter: Beccaberry73
Instagram: Anonymouserunner
Email: beccaberry73 [at] gmail [dot] com
Forums: wdisneysecrets.com