By Christina Black
Disney Food! How many of you made your dining reservations at least 90 days out? Well of course, because we want to get that amazing steak at Coral Reef or make the kids day by meeting Mickey and the gang at Chef Mickey's. There are so many great choices when eating at Disney, but let's talk about cheap and on the go. What cheap meals at Disney? They don't exist! My family and I are locals and we have made a tradition of eating somewhere on Disney property every Sunday, but we soon figured out even at a resort it gets pricey. So we all started getting kids meals. I know, let the dropped jaws and shouting begin. When getting adults meals I found myself wasting half and then feeling bad because I just wasted $11.99 on pasta. I saw the signs that say kids meals ages 3-9 and of course that deters people from getting kids meals, but why did I have to have such a large meal and pay for a drink when I wasn't going to finish it. So one day I asked a cast member could I have a smaller portion and she told me "why not get a kids meal?" WOW, I could do that? So that's how our kid's meal obsession began. Now we were off to find the best kids meals. As an adult all we see is hamburgers and chicken nuggets, right? That is because that is all our kids will eat, at least mine.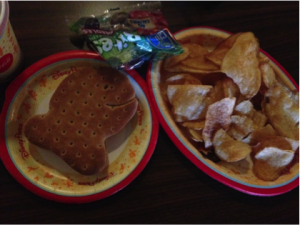 This is one example of a kid's meal. I found out later that you could ask for a different kind of bread as well. Every kid's meal comes with a drink with 3 refills if you ask for a fountain drink, so you are not sharing germs on one large cup.
So what have been our favorites so far? First of all, any place that has the house-made chips I am all for! My family really enjoys Pop Century for either breakfast or lunch. They were happy to switch out bread on the tuna sandwich and my husband enjoys the sloppy joe kids meal. If you want to try the kid's hamburger I suggest Coronado Springs. The hamburgers there are like the size of adults, in fact, all of their kid's meals are doubled in size! They also have the best sweet tea on property. For some reason, their sweet tea machine has a special southern sweet tea button. Coronado Springs also has the best breakfast with of course large portions.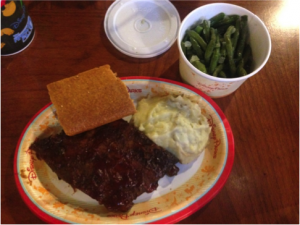 For dinner, the popular vote goes to Port Orleans French Quarter. Again, the portions for kid's meals are larger here and the choice of getting ribs for your meal is amazing! The mashed potatoes and green beans are seasoned perfectly and I actually find myself too full after this meal. Next time you are at Disney, try a kid's meal!
Christina Black