By Brad Coates (papamouse)
Those are some powerful emotion inducing words.  If you are newlyweds, it makes you giddy.  If it's your 28rd and you forgot, it makes you fear for your life (just kidding sweetheart…).  And if it is a milestone anniversary it emotes very unique, once in a lifetime, never coming this way again feelings.
I have to say for me and my family, Disneyland's 60th Anniversary celebration had that kind of effect on us.  For the past 15+ years, it has been our family's tradition to do at least one Disney related trip each year. So sometimes it would be easy just to say "been there, done that".  This celebration was definitely an experience that will leave us memories for a lifetime. Let me just share a couple of the things that were so amazing, we will always remember…
Diamond Celebration "Touches"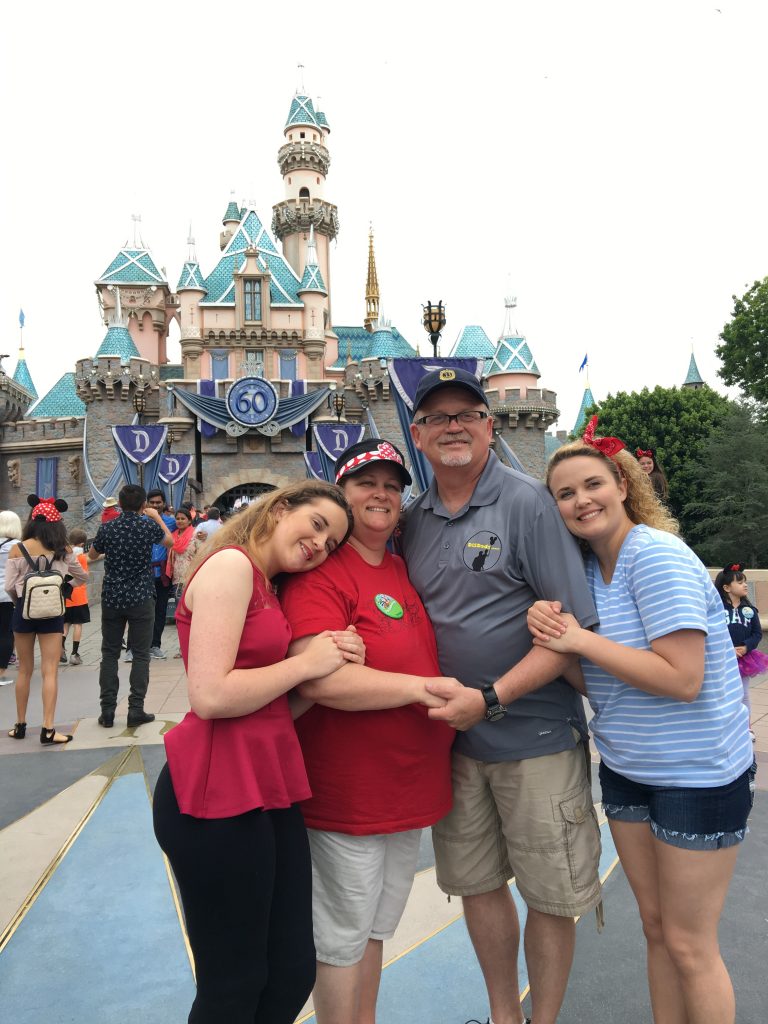 One of the things that is always a little nerve wracking is wondering what they are going to do to our beloved castle to celebrate an
anniversary (can anyone say "Magic Kingdom Birthday Cake"?).  So it was such a breath of fresh air when we saw the castle for the first time.  Elegantly draped with blue sashes and 60th symbols that weren't garish or overwhelming.  Throughout the park there are subtle and elegant reminders that this is a special occasion. Even DCA got in on the act with some beautiful touches on Carthay Circle.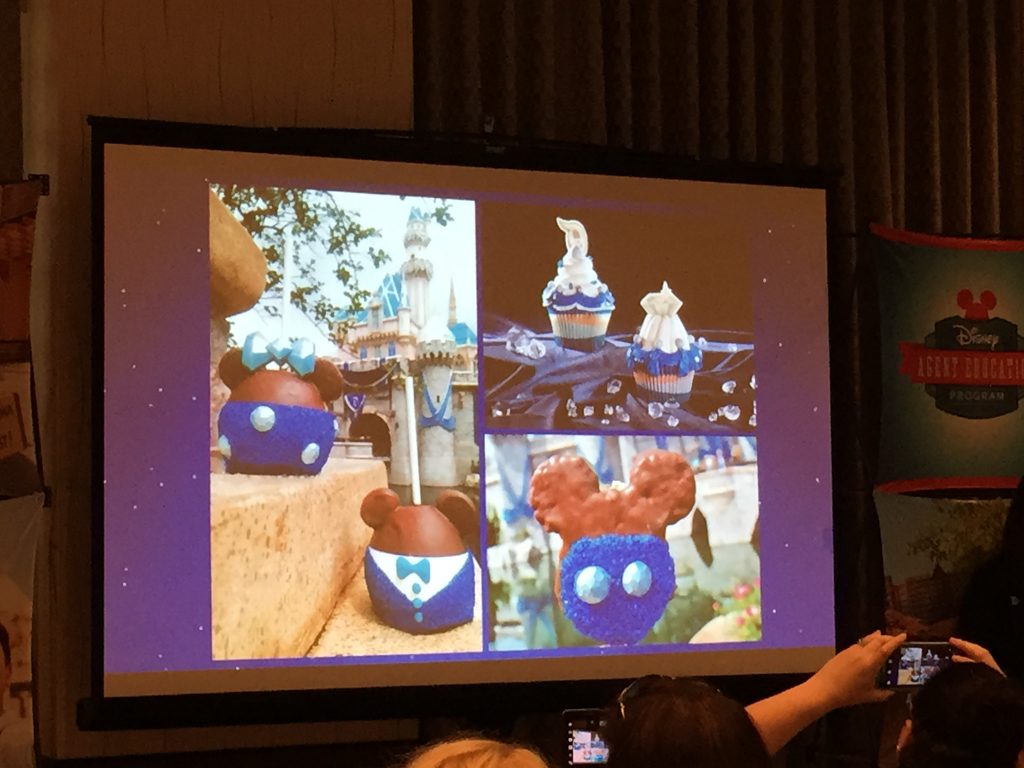 And of course, no anniversary is complete without Food!  The special food offerings include some of the usual favorites… amazing cupcakes (they really did taste better than ever..), caramel apples, cake pops, and so on.  But there were some new twists on the classics.  New Mickey Balloon shaped popcorn buckets, really cool Mine Car boxes with cheese fries back at the Hungry Bear Restaurant, and so much more.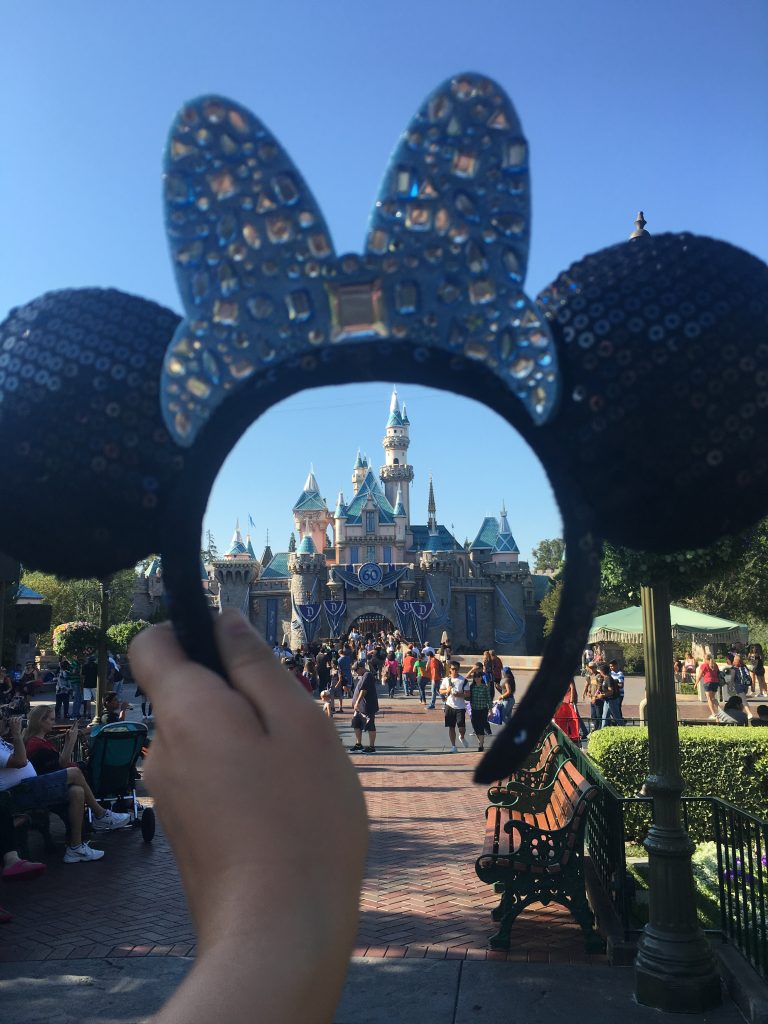 Last but not least, there is plenty of "bling" to commemorate this occasion.  Shirts, hats, ears, trading pins … but our family tradition is Christmas ornaments. It is the Diamond Celebration, so you can just imagine how elegant and sparkly they were for the 60th!  I love looking at our tree each year and being able to see our memories on display.
 Disneyland Celebration  Ride "Plusses"
Some of the less advertised, but equally impressive additions to the Celebration were some upgrades to some of our favorite rides.  The Matterhorn has been spruced up and has some new inhabitants!  There are now multiple "working" yetis that will surprise you along the way.  I was actually startled by the new addition… but I'm a guy so I wasn't scared.
Another great refurb can be found in the standby queue of Peter Pan's Flight.  I have to say, I think this is now my favorite interactive queue line in either US park.  With the use of new technologies, the story comes alive as you weave your way to the right.  It is truly magical as Tinkerbell makes the place come alive with plenty of pixie dust.  And the new "magic" doesn't end in the queue.  Inside, the ride has some really amazing new effects that create a more living experience (check out the animated roads and river.. and the clock tower).  That new queue makes it almost worth a 90 minute standby line.  I did say almost…
And last but certainly not least, one of our beloved attractions has welcomed back an old friend.  The Hatbox Ghost!!  Even for lifelong Disney fans, the Hatbox Ghost was more of a legend.  He made his first appearance in the Haunted Mansion in August of 1969.  Within just a couple months they removed him due to the failure of the special effect.  Well, last year he came back with some amazing new technology to make it a great new feature in the Haunted Mansion.
 Disneyland Celebration Entertainment
Without a doubt, the single most important reason to NOT miss the 60th celebration is the phenomenal entertainment experiences that have been added.  The Paint The Night nighttime electrical parade, the incredible expansion of the Disneyland Forever fireworks show, and the new version of World of Color – Celebrate!
I wish I could capture the incredible experience we had in all 3 of these shows, but I was so busy feeling like a kid at Christmas, I missed out on taking photos.  This felt like the first times when we went to Disney and were awed by the new and amazing experiences around every corner.  If you can't tell yet, let me just tell you… WE LOVED IT ALL!
The Disneyland fireworks have always been great, but now they are SO much more!  They have taken the amazing laser mapping technology they have used in the US parks to do incredible laser shows on the surface of the castle and It's A Small World, and they have stepped it up BIG time.  I think the coolest thing about these additions is the way it creates a completely different experience from different places in the park.  Unlike so many shows where if you don't get positioned right, you miss out on so much of it, this show incorporates the lasers to create great new viewing opportunities.  This last trip, we saw the show twice.  The first time we positioned ourselves dead center on Main Street where watched as the whole street came alive.  The buildings became a canvas to tell the story of each song.  Even the rooftops got in on the act, so keep your eyes open. Then the next time we watched it, we had purchased a dining package for the Paint The Night parade (more on that in a minute), and we were seated directly across the street from It's A Small World.  Just a few minutes after the parade the fireworks show was scheduled and the CM told us to stay put and watch the show from our seated location and we wouldn't regret it.  The Cast Member got it right…. WOW!!  It was a whole different experience.  Since you are located behind the castle you miss some of the firework shots that cross low over the castle, but the trade off is you now feel so much closer to the BIG shots.  And the laser show on Small World was absolutely breathtaking.  Same show but a completely new and unique experience.  They also do a custom laser show on Matterhorn for those who have a view of it, and supposedly they had a laser show for Tom Sawyer's island to make that viewing area special, but due to construction, that wasn't up so we didn't see it.  It's all subjective, but to me… BEST fireworks ever!
Stay tuned for Part Two of "Happy Anniversary Disneyland!"
Brad Coates