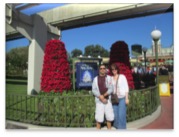 My husband John and I are what I like to call "late blooming" Disney lovers. For both of us our first stay on Disney property was our honeymoon in 2002. Neither of us grew up going to Disney on vacation. John had been once in his 20's and I had two full vacations and a school trip to Magic Kingdom under my belt, all off property. Even back then we had many of our family and friends asking why there? Why not Hawaii, Aruba or some other tropical island? Why go there if you have no kids? At the time I wasn't as familiar with Disney as I am now and all I said was "its fun" and shrugged my shoulders.
We only went on one other Disney vacation in the first 10 years of our marriage. Some medical costs and saving for our first home kept us from going on any vacations never mind a Disney vacation. With so many things going on in our life during that time we weren't even thinking about Disney. In 2012, my mother in law wanted to go and offered to pay for our trip. Of course we jumped on it, but only had a couple of months to plan. It was September and we were going in November. I dove in to researching and planning. This was our first time there during the holiday season and I loved investigating all the festivities that would be going on during our visit.
Something about this trip REALLY sparked our passion for all things Disney. We always loved it, but this trip started that obsession so many of us have with this magical place. This was the first time we really ate at any of the table service restaurants; I know, hard to believe! Our other trips we were staying at Coronado Springs and ate at Maya grill for our "celebration" dinners; everything else was on the go. We stumbled onto the start of the Candlelight Processional; we got standing room right at the railing. It was an absolutely beautiful experience, and we were also lucky that it was Neil Patrick Harris! I loved seeing the castle lit with the shimmering Christmas lights and all the resorts decked out in their holiday finest!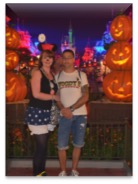 We booked a bounceback offer while we were there to return in September to celebrate my 40th birthday (which was the plan before we even got there!). This is when I truly became a Disney fanatic. The information available was immense and I could not read (or listen) enough! During this time I discovered a new podcast …. can anyone guess…? Yes, it was ResortLoop Podcast, and I loved it! We don't have any family or friends that share our love of Disney, and this podcast in particular made you feel like you were sitting in with friends sharing your experiences and thoughts on Disney! I stepped even deeper into the Disney "world". I was up at 5:50am at 180 days to make sure I got all the ADR's I wanted and stalked the ones I couldn't get hoping they would open up. We had an amazing trip, I have to say it was the best we had. We went back again September 2014 and again up at 5:50am for my ADR's, this time up at midnight to schedule FP+ selections and checked my email first thing every morning for my invite for BOG FP lunch … which I scored… for my birthday! We did the Marceline to Magic Kingdom tour and MNSSHP (Mickey's Not So Scary Halloween Party – for you ResortLoop Tim!)
After our last trip we realized this is finally going to be an every year trip for us and decided to buy into the DVC via resale. We have always stayed at a moderate resort, Coronado Springs to be exact. We figured out with what we would spend each year to stay there we are able to make our payments to DVC and stay deluxe. I feel we are starting a whole new adventure with this option. We will be staying for the first time as DVC owners in Sept. at our home resort, Bay Lake Tower. If we were going to do it, we had to be on the "Resort Loop"!
Now when people roll their eyes and say "why Disney", I say why not!!! I can relax by the pool with a tropical drink, take out Sea Rays on Bay Lake, go parasailing, eat in a castle, visit countries around the "world" and visit lands of yesterday, tomorrow and fantasy! What more could you ask for!?!?!
Susan Brass
Sayville, NY