By Brad Coates
Alright… on to Part 2!
So remember I mentioned our reserved seating for the Paint The Night parade?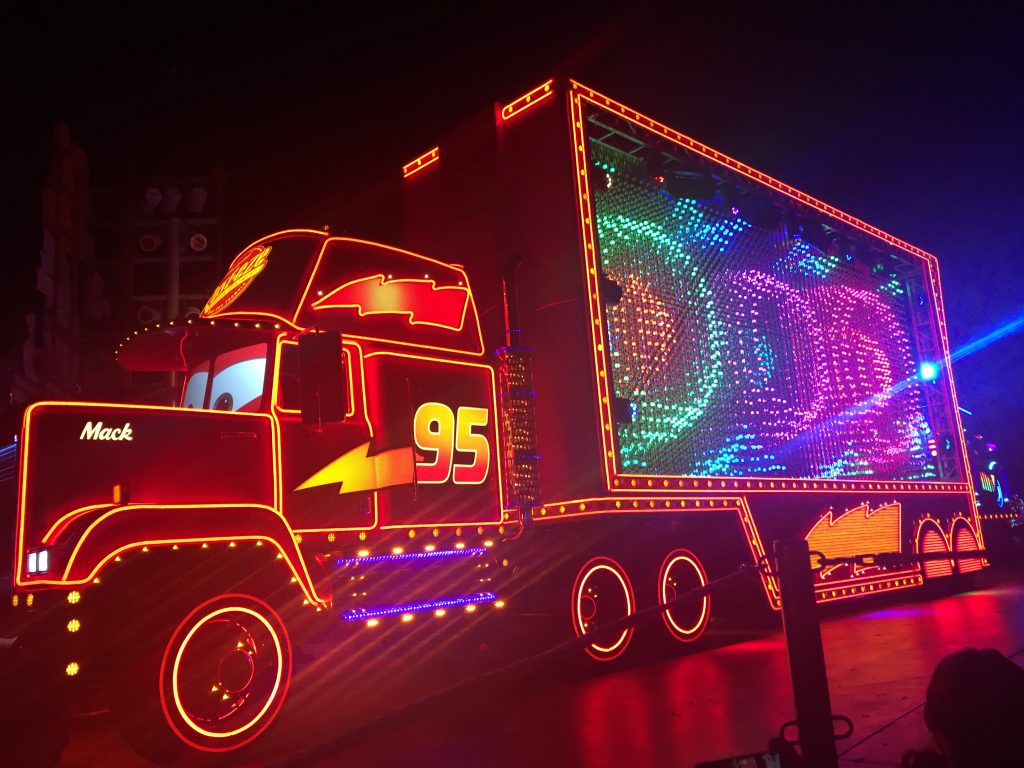 We had purchased the Oasis On The Go Dining package, and that was money well spent… WELL spent.  We got to the preview area a little early ( a whole 35 minutes before the show)  and we are so glad we did it.  When the CM let us into our area, we made our way to the front corner where we found a short half wall to sit on. And everyone in front of us were required to sit.  We were about 6-8 feet from the edge of the road with a perfect view, and not even 50 yards from where the parade route began.  Simply put, this parade was an explosion of lights… action… hand clapping music!  Some people have complained the parade was too short, but honestly I think if they made it much longer, your head might explode from all the sensory overload of this experience.
Man, I could do that parade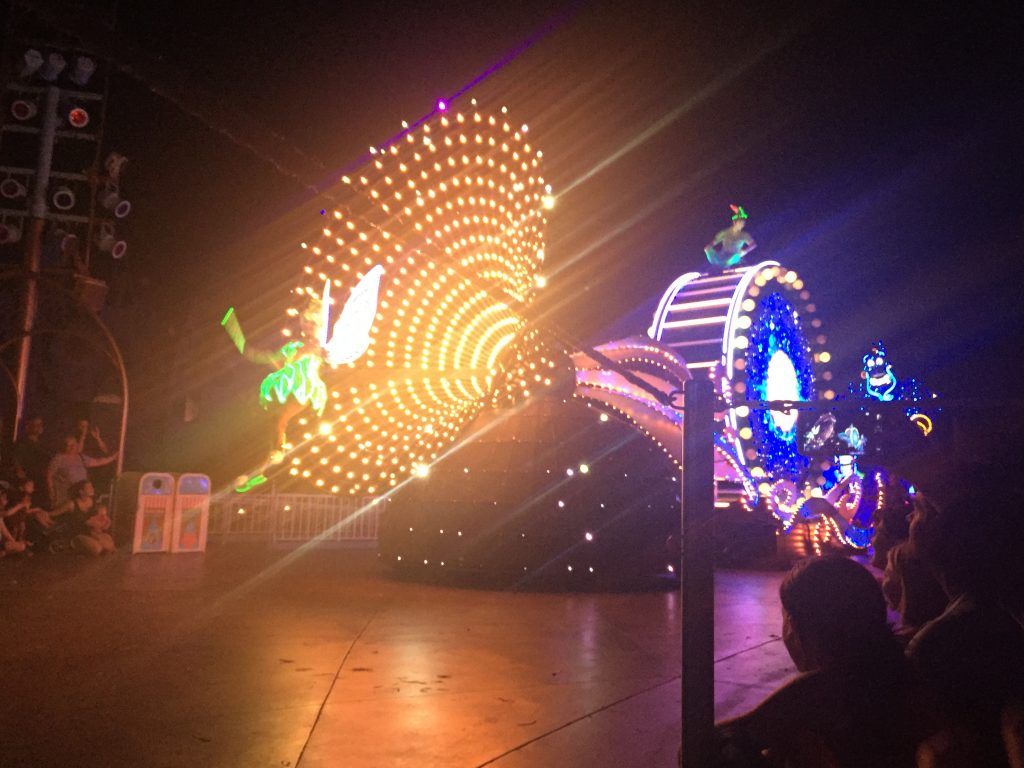 every night.  The way the songs seamlessly flowed into the next float scene, the sheer size and amount of lights on each float, the beautiful integration of dancers & characters into each float scene take the whole parade thing to a whole new level.  I encourage you to put your phone away… you don't want to miss a moment of all the crazy technology and special touches that pass your way.  WOW!!
Last but certainly not least, you can't miss World of Color – Celebrate!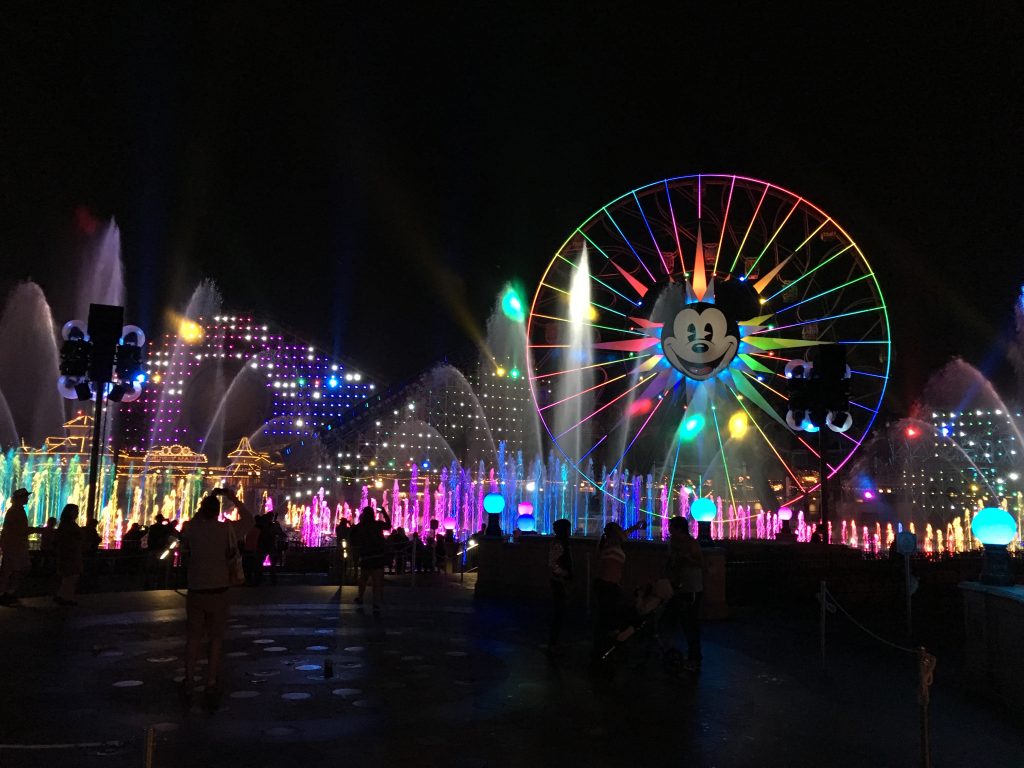 I must admit that this show has been one of my "can't miss" events ever since it first came to California Adventures.  It is such a stunning integration of light, technology and music, and it never fails to amaze me.  And they took it to another level for the 60th by adding new effects onto the Mickey Wheel and the California Screamin' ride.  And of course a brand new storyline that celebrates Walt and his incredible imagination that sparked it all.  It was a true "warm fuzzy" moment for me (I think I might have even shed a tear or two… or maybe it was allergies).
The ONLY negative I have for this show is the whole standing in a cattle pin with sweaty tourists whose kids have to sit on Dad's shoulders to make you lose your Disney magic.  Well there is now a way to experience this incredible show without taking a Xanax.  The new World of Color Dessert Party.  If you have ever experienced a dessert party at any Disney location, then you already know some of the basics.  You pay roughly the price you would pay for kidney transplant!  OK, I exaggerated a little, but everyone always gets caught up complaining about these parties because you pay WAY too much for the desserts you get.  The reality is, you aren't paying for desserts.  You are really paying for (hopefully) a less stressful and more memorable experience.  And while some dessert party's seating locations can leave a lot to be desired, this one is absolutely the exception.  This should be the party that they pattern all parties after.  At $79 a person it was worth every penny for us.  Here's why it was so much better.
Great Location. It was basically dead center, and was slightly elevated so you actually saw over the tops of the people's heads in front of you. It was not too close where you can get drenched, yet not so far back that the effects are less impressive.  We could literally see the water fountains that were on the surface of the lake.  I've never seen them before in a show.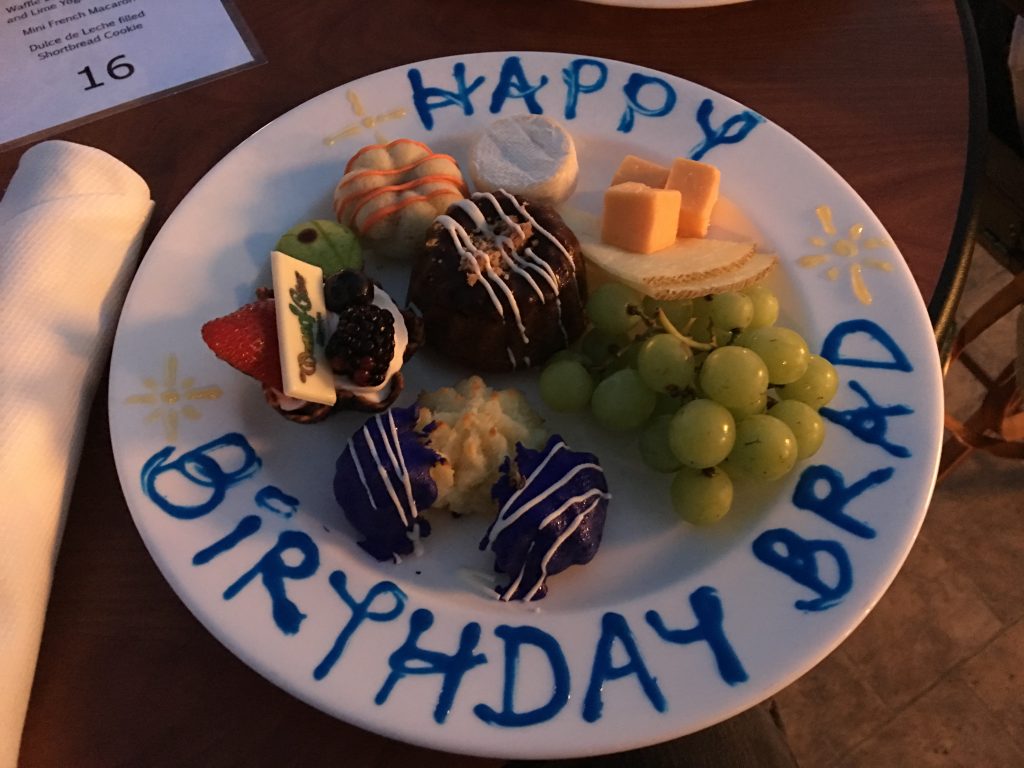 Quality.  The desserts were excellent and included a specialty alcoholic beverage for adult, unlimited amounts of tea, hot chocolate, soda, etc., and for kids 12 & under they had a really cool custom cup with built in "Glow with the Show" technology.  It was a blast watching the cups change colors and "dance to the music" during the show.  But I saved the very best for last.  The single most important, most valuable feature of all…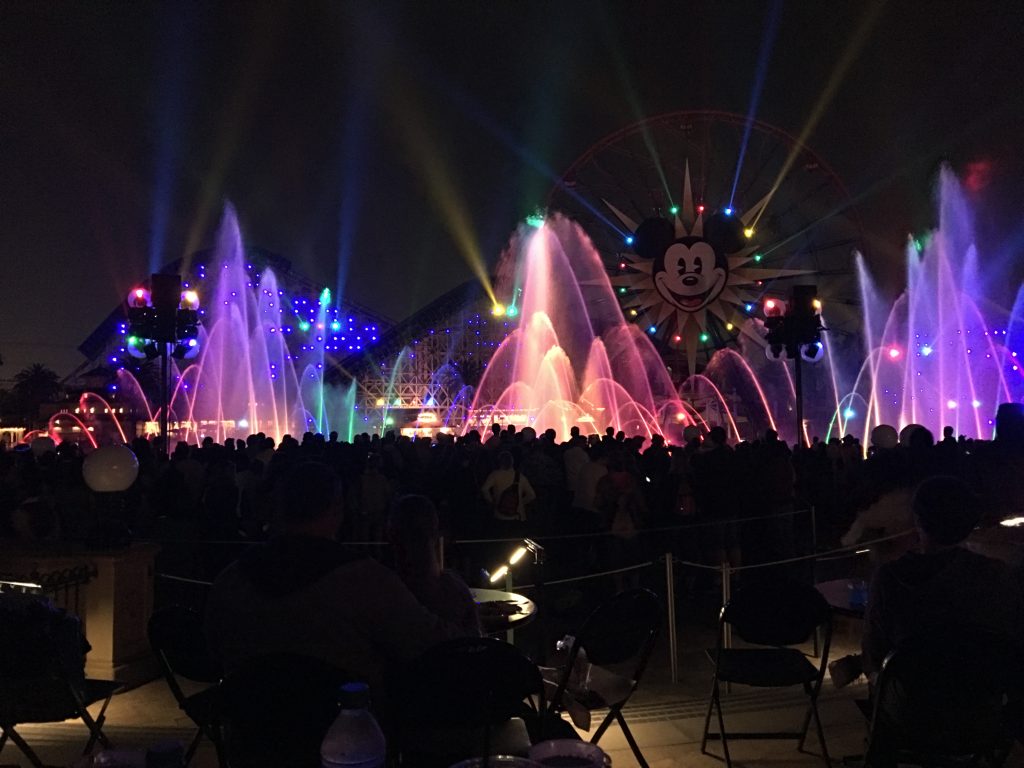 YOU GET TO SIT DOWN! You heard me right, you can now sit leisurely at a nice high top table, relax, snack, drink your hot chocolate, and watch the most amazing show with almost no barriers to your view or to your experience.  I have now seen World of Color in a way that I will never forget.
So… you ready to plan a trip and check it out?  Well, you better hurry, because the 60th celebration officially closes on September 5th.  I was feeling pretty confident that folks who didn't make it out for the actual celebration could still experience many of the features that were added.  I mean seriously, after the incredible financial investment into bringing Paint The Night and the new fireworks show technologies, certainly they will keep those things around for a while.  Why wouldn't you?  Well it is all rumors, but there are plenty of seemingly credible rumors floating about that say Paint The Night might be headed to Disney World, and that they even shelve the fireworks show.  It is all rumors, but there is one sure way to make sure you don't miss the experience of a lifetime.  Get to Disneyland quick!  You won't regret it
By Brad Coates (papamouse)