Hi everyone, the Looper Nations Boots on the Ground,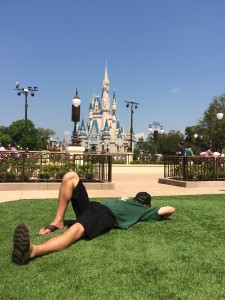 Gwoo and I had a Magical couple of days at the parks. As I type Im sitting in the Tortuga Tavern as GWoo has a table set up to trade Sorcerer of the Kingdom cards. She only needs 3 more to complete her set. This is a fun game for the kids and they can get a new set of 4 cards each day that you enter the Magic Kingdom. Give it a shot.
We spent some time in the new hub. The small character statues that you used to be able to touch and take photos with were unfortunately moved to behind a fence. Changes as we make room for new FP locations for Wishes. Gwoo and I laid down in the grass, errr, I mean astro turf. It was very relaxing and quite comfortable. On this blue bird 76°F day, I think I could have stayed there all day, but I digress.
This morning we got here at the MK for rope drop and despite the Spring Break crowds, we did our normal routine. As the marathon to the Mine Train started, we headed to Peter Pan, walk on…….and you know the rest. Its 11:30 and we have done 13 attractions. We have our FPs set up for Epcot this afternoon so we are headed there soon.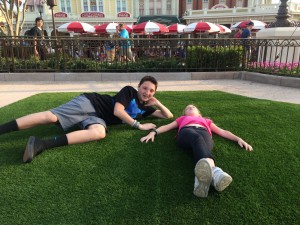 News to most is that Innovations West is shutting down, we are going to play the Great Piggy Bank Adventure at least one more time. Interestingly enough, Innovations West has already been removed from the official Disney page. Bye bye Where's the Fire?, Play It Safe, and the Great Piggy Bank Adventure. Hello more Frozen……..I hope not.
I heard rumors that this area may turn into an area that can be rented out for private parties, but I would think the Odyssey would be the best choice for that. With our luck it will be a new "Frozen Land" meet and greet.
Speaking for FP, apparently if you book FP for 3/29-3/31 you can get a "free" fourth FP. You can only get the fourth FP at HS (or is it Hollywood Adventure now) and/or the Magic Kingdom. I checked it out and they assigned me Disney's Philharmagic as my fourth……..never ever in a million year would I think anyone would need a FP for Disney Philharmagic. I'll be changing that now…….
Also, on the rumor front, I heard that a new Jungle Cruise inspired restaurant will be coming to Adventureland! I spoke to one CM and they were not able to confirm or deny, but did tell me that if it did happen, the wait-staff would be "out of work" Jungle Cruise captains, and they would still use their shtick……oh you want water, the back side of water, directly from Schweitzer Falls, named after that great 19th century explorer Dr. Eugene Falls.
Attached are a few pictures showing the relaxing hub and the Great Piggy Bank Adventure (RIP).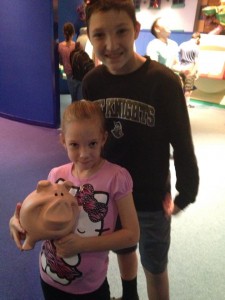 Well GWoo is just about done trading and she still has one more card to complete her set………time head to the monorail on our way to the TTC………maybe we will take the Resort Loop. Oh and by the way, there is some new carpeting in the monorails………….I like the retro Disney pattern. I have some pictures on twitter (fishseanwoo). We have FP for Soarin, Mission Space, and then for number 3 does it matter????
Until next time……..roll 'em…………………. Tim and Bob or is it Bob and Tim?
Your very own boots on the ground,
FishSeanWoo and GWoo
Add me on Twitter to see the pictures we take at the parks.
Sean Woosley,
Your Boots on the Ground!