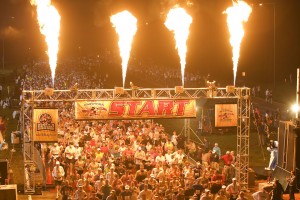 Many of you may have toyed with adding a RunDisney race to a trip you have planned to the World. That's great. You'd love it. RunDisney races are exciting, fun, and low pressure. They are a bit pricey, but so is pretty much everything down there—and you can go home knowing you accomplished something.
They say RunDisney makes Runners Disney fans, and Disney fans runners. A 5k is really just the same amount of walking as a half day in the parks.
A 10k? You'd be doing that anyway while touring with the blazing Florida sun beating down on you. With an actual race, you get a t-shirt and a medal, and a sneak peak at the World Showcase well before they open. There's nothing like the misty morning on the Seas Lagoon.
It's non-refundable, though—so better wait to sign up until close to your travel date, right?
OH NO. It's not that easy.
When I first announced my intentions to run the 5k on Marathon Weekend 2015 on a Disney Fan forum, they were extremely supportive. But reading their posts, a theme soon emerged: real paranoia about their ability to shell out hundreds of dollars quickly enough. They seemed to be talking minutes.
At first, I chalked it up to the type-A running personality. These are people that intentionally over-exert themselves in their free time, after all. And they seemed really convinced that their shoes were going to make some kind of difference. I was pretty sure I had a pair of athletic shoes somewhere in the house but I was certain that they wouldn't have any impact on my time. A disturbing amount of them planned to sign up for every adult race offered. Four days in a row of this madness—aptly named the Dopey Challenge!
These people were talking about coming home from work early or taking the day off when registration opened. Those with Annual Passes and Disney Vacation Club members got first shot at about 10% of the slots. They didn't have early registration for the 5k, however, so I'd be thrown in with the masses for registration. It was just a 5k, right? Why in the world would it sell out the day it opened, well before people could REALLY make plans?
Good thing I've learned to listen to the Disney fanatics out there who were speculating just how fast the slots would fill. The longest predictions were days.
I'm sure more official stats are out there somewhere, but I can tell you approximately how registration went for the 2015 Marathon weekend races based on my neurotic notes. Registration opened at noon EST on April 22, 2014. Systems were shaky. The 10k was full by 2:20pm. The Dopey was full by 2:30pm. The 5k was full by 3:20pm. At 11:30pm, the half marathon was full. The full marathon was at 70% full by 4/24, and the Goofy Challenge hung around for a decent while longer. Thank goodness I was able to snag our 5k spots in the first 45 minutes after some brief technical difficulties.
I could tell it was going to get crazier for coming races, and I was right. The Wine & Dine 2015 Half Marathon's early registration was sold out in about 15 minutes. Full registration? By 12:01 the site had crashed, but quickly bounced back up. At 12:08 some people found themselves in a queue for signups. By 12:25pm both the 5k and the Half were 75% full. The 5k was sold out in 30 minutes. The half marathon sold out in 35 minutes. IT WAS MADNESS.
This year, the 10k seemed appropriate. I tried to sign up during early registration, but I was a fool. I waited for an hour…. and those slots were full. So once again, I was thrown into the churning waters of general registration.
Of course, on April 28, 2015, general registration day, I had a bunch of terrifying scheduling conflicts, but after speeding through my morning, I was able to barricade myself in my office. It was 11:45am, and I knew I was cutting it way too close.
Starting at about 11:55am I started hitting refresh over and over again. At 12:03pm, I got the confirmation of the first registration. At 12:06pm, I got the confirmation of my husband's registration. And honestly? Even if I can't get to WDW in January for some crazy reason, IN THAT MOMENT, I WON.
The 10k went first, in less than 45 minutes. The 5k was gone in an hour. The half lasted just under 5 hours. The Dopey lasted overnight. While I write this—approximately 5:30 pm on 4/30/15, the Marathon itself is 67% full and the Goofy Challenge is 85% full. You can follow future developments on Twitter at https://twitter.com/runDisney.
All that said, there are a few ways to beat the clock. If you haven't been able to sign up for your preferred race, you can check out any challenges that include that race plus others. You can also check with charity groups or travel providers, who may have additional slots that may either require booking with that travel provider or raising money. That said, why not raise money for a charity as part of your race? You can also look into different race weekends, some are less or more popular than others. You can choose from princesses to superheros, aliens to adventurers, east to west coast, continental to island.
But I can tell you one thing—on registration day, I don't need a cardio workout. I have an elevated heart rate for at least an hour just sitting in my chair.
-Emily Honsa Hicks
@firstcomeswdw on twitter
Blog at http://www.firstcomeswdw.com