You want to look great. You are a total Disney nerd. You don't want people to know EXACTLY how nuts you are about the mouse. Do I have a tool for you!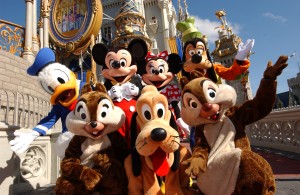 DisneyBound, or DisneyBounding, is a fantastic way for the arguably more subtle fan to allow their passion to permeate their everyday life, or a special occasion. From most accounts, Disneybounding is the epiphany of Leslie Kay, a fashion hobbyist who began assembling outfits inspired by characters from the items already in her closet. The best place to find her distilled ideas is her tumblr page.
For example, you might wear a yellow tee with blue shorts and flip flops to evoke Flounder, or bohemian-gypsy gear in purple and teal to channel Esmerelda. Some of Disneybound's 'official' ensembles include links as to where to procure the items she curates. These outfits attempt to avoid falling inside the non-permissible adult costumes that can be viewed as representative of an actual Disney character.
As Walt knew, good ideas catch fire and attract imitators. Tons of fans have picked up on this hobby and other sites like Pinterest have become havens for fans to assemble inspired outfits. Some of the combinations hint so lightly at the character that an untrained eye would skip over it like a hidden Mickey, and others boldly embrace the character that only a caveman could miss the reference. It makes the way I dress on a daily basis downright reckless!
These outfits are even more fun on Dapper Days, unofficially organized nights in which those 'in the know' sport their most sophisticated fashion. This year's Orlando date will be October 3, 2015. Think classic outings where folks dressed to the nines to go out on the town—and left the sweaty tees and socks with sandals at home. Ladies can draw inspiration from the new Mary Blair collection, and gentlemen, check out the way Walt or any of his princes dressed.  It's probably no coincidence that the event is held in the more tolerably cool Florida fall.
So if you have a little time between now and your next trip to the world, why not think hard about those park outfits? Get intentional about your color combinations and accessories, and you'll be enjoying a whole new world.
By Emily Honsa Hicks