You're probably wondering what I mean by a blind review. Well, here's the thing. They don't let adult women hang out in Lilo's Playhouse. Unless they are staff, of course.
We've used an in-room sitter for the last 2 years and she is fantastic. She takes fantastic care of the kids in the hotel and since one of our kids is under three, she's the best option too. But we've heard great things about the various kids clubs around the World, and now that we have a couple of kids old enough to attend, we decided we'd like to try one out while the baby chilled with us in a stroller (read: fell asleep).
My husband and I checked out Simba's Cubhouse at Animal Kingdom Lodge and we weren't in love. I'm sure it's lots of fun, but we decided we'd skip it. Somewhere early in our vacation a stranger told us that Lilo's Playhouse at the Polynesian was trying something new. You've probably heard of the famous Disney Cruise Line Kids Clubs (I know we have—as soon as our little guy turns three you'll find us on our first cruise).
Those Kids Clubs were the model for Lilo's Playhouse—they serve dinner, have programming and activities including a luau with a visit from some of the characters.
We decided to give it a shot and made a reservation. We dropped our little bundles of joy off at 4:30. The rate was $55 flat for 4:30pm to 12am, and it includes two snacks and a full dinner. We got a DVC discount too, which was excellent. We knew we'd be collecting the kids around 8 or 9 pm, but it'd be a better deal if they could stay later.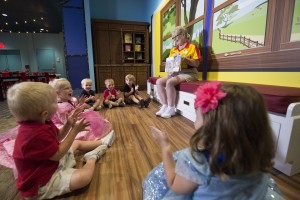 The place looked like the set of a Disney Junior show. There were castle backdrops, a pirate ship, and we couldn't see any of the kids, although they informed us they were in the middle of a science class. The place is like a colorful cartoon Fort Knox. The kids were chomping at the bit—I filled out about 4 forms per child and then they were finally banded and allowed in. I won't reveal all the security measures here, but suffice it to say I was sure they'd be released only to my husband or I.
So here is where the blind part comes in. The account I got was in rambling three-year-old language but involved a luau and Chip and Dale and a lot of excited gibberish. At 9:30 or 10pm they pop a movie on (in this case, Monsters University).  Our kids wanted to go back the next night. We wanted them to as well.
Any parent looking for a night out or two on their vacation should give this a serious thought. The kids have to be 3 years old and able to use the restroom independently. The staff, facilities, concept are all awesome.  I suggest a crazy tip that keeps it affordable: get shorter length tickets for the kids. Get longer tickets for the 'rents.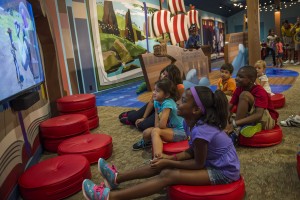 Choose resort days on evening extra magic hours days for the family. Put the kids in the Playhouse at the end of the day and go to the parks with the grownups! Everybody wins.
Your sleepy, delighted little people won't miss you at all, I promise. It's remarkable how easily parents are replaced by chipmunks.
Emily Honsa Hicks
Shoot Emily Honsa Hicks any questions about her experience at @firstcomeswdw or visit her blog at firstcomeswdw.com!