If you have never read any of the books or articles by Disney historian Jim Korkis, then you are doing yourself a true disservice.  Jim's writing style both educates and entertains the reader in equal parts.  I first learned of Jim while reading the Disney Files magazine (Disney Files is a publication produced by Disney and sent to DVC members).  His regular contributions to Disney Files can be found towards the end of the magazine.  It was during my reading of the Fall 2014 edition article entitled "Dining with Walt" that something caught my eye and intrigued me.

One of the basic premises of article was to design a menu for a fictitious dinner with Walt Disney.  In order to create the menu (and for the reader's benefit), Jim summarized some of Walt Disney's favorite foods.  It was noted that Walt had simple tastes.  Diane Miller described to Jim that Walt had a very simple "Meat and Potatoes" kind of diet.  He enjoyed hamburgers, fried potatoes, canned chili, hash, stew.  He also enjoyed eggs, toast, and juice for breakfast and sandwiches for lunch.  Towards the end of the article it was written that for the 100 Years of Magic Celebration in 2001 (essentially celebrating the 100 year anniversary of Walt's birth) several Disney restaurants wanted to offer up some of Walt's favorites as dessert options.  To help with planning the dessert menu, they sought help not only from Diane Miller but also Lucille Martin (one of Walt's former secretaries).  They suggested some of Walt's favorite pies (Boysenberry and Apple), jello with fruit, gingerbread, and cookies made from Chow Mein noodles with butterscotch.  WHAT?!?!  Cookies made from Chow Mein Noodles and Butterscotch???  Everything was so American up to that point….so Walt-like.  So my mission became clear: to find the actual recipe for Walt's Chow Mein cookie and taste why such an odd combination became one of Walt's favorites.
The modest challenge actually proved tougher than one would think.  My first source of information was in one of the 3 Disney cookbooks that I own.  (Cooking with Mickey Around our World, Cooking with Mickey Volume 2, and Cooking with Mickey and the Disney Chefs)  Disappointingly enough, they offered no help in securing the recipe.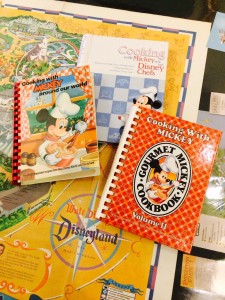 Then I turned my focus towards the internet.  Try "Google-ing" the words Walt Disney/Chow Mein or Disney/Chow Mein cookies and see what comes up.  I'll save you some time – NOT MUCH.  I then searched the mega-Disney food resource site disneyfoodblog.com but to no avail.  (They do have MANY great reviews and recipes from the Disney parks and resorts, however.)
OK…OK…time for the "Big Guns"… I called Disney Guest Services at (407) 939-6244 in hopes of getting an answer.  Though they were very polite (after entering MANY prompts to speak with an operator) they could not provide an answer.  It was becoming obvious that a Leap of Faith was going to be required.
It seems that the Butterscotch/Chow Mein cookie recipe was actually fairly common on the internet, however I was unable to locate a recipe that would claim that their cookie was one of Walt's favorite.  But a simple recipe seemed to be the leading candidate as it dominated nearly every recipe site.
Original recipe makes 2 dozen
1 cup butterscotch chips
1/2 cup peanut butter
1/2 cup salted peanuts
2 cups chow mein noodles
2 cups miniature marshmallows
Directions
Melt butterscotch chips and peanut butter on top of a double boiler, or in a microwave. Blend together.
Stir peanuts, noodles, and marshmallows gently into the melted peanut butter mixture.
Drop dough by forkfuls onto waxed paper. Cool until set.
At this point, you are probably wondering if all the research was worth it?  How did the cookies taste?  Truthfully, my family and I thought they were delicious, but I was a little disappointed in not being able to find the documented version of the recipe that Walt enjoyed.  But in the end I felt I gained something greater.  Much like I imagine Walt would've done…create a solid backstory, color in missing key details, research and develop an unknown commodity and create a new version or representation of a traditional tale.
That being said….Ladies and Gentleman….I present to you Walt's Chow Mein Cookie recipe (sort of)…
PS – If you are able to locate an actual copy of the recipe that was used for Walt or if you have any questions or comments, please contact me on Twitter (@DisneyChicago) or Facebook (Chris Malek).
Chris Malek
My baking assistant (ahem…daughter) holding up a plate of delicious Chow Mein Noodle Cookies.