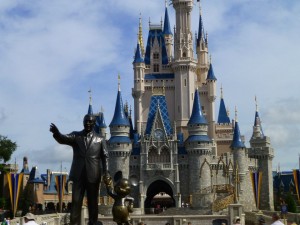 So, you've decided to go on a Disney trip.  If you're like most people, you're starting to feel overwhelmed with everything there is to do and how much research and preparation is involved.  Calm down, and take a deep breath.  It's going to be fine.  I'm going to talk you through it in a series of blogs, one step at a time.
I'll be honest – it is a lot of preparation and ground work to prepare for a Disney trip.  But here is what you need to remember:
You get out of your Disney trip what you put into it.
Let that sink in for a moment.
Close your eyes.  Take a deep breath.  Now, say to yourself:
"I will not feel overwhelmed.  I will not get overwhelmed.  I will not be overwhelmed."
Now, open your eyes.  Smile – you're going to Disney!!!
So…let's get started.
These are the 1, 2, 3's of planning your Disney trip:
Step 1.  Do It Yourself Or Use A Travel Agent?
This is an individual decision.  Each person is different.
However, my personal recommendation, especially if it's your first trip, is to get a Disney-authorized travel agent.
Why?  Well, this has been my experience…
Five years ago, we took our first family trip to Disney.  I purchased airfare on my own, then sought out a travel agent to book our hotel and dining reservations through a member service organization I belong to (not a Disney-authorized travel agent).  It went pretty smoothly, except that I felt like I was doing a good part of the work.  For example, one morning, I saw a commercial that Disney was giving $500 gift cards to guests traveling during our travel dates.  I immediately called my travel agent, but he had no idea about this.  Of course, once he looked into it, I got my $500 gift card (which allowed us to give our daughter the trip of a lifetime – between the gift card and my Disney rewards dollars from my Disney credit card, we were able to do a LOT of character meals), but I realized that I had to keep on top of everything since I probably wouldn't have received the $500 gift card if I hadn't seen that commercial.
In 2012 and 2013, we used another travel agent that came highly recommended by a trusted website and is an authorized Disney travel agent.  Those were very good experiences.  The only down side of that (depending on how you look at it) was that virtually all of my contact with her was done via email, and I had to make all of my own advanced dining reservations.  That wasn't so bad for me because I'm a control freak when it comes to my vacations and liked having control over my dining reservations.
By the time our last trip came around in November 2014, I had become a podcast junkie, and MagicBands, FastPass+, and My Disney Experience had been rolled out and were being used (and tweaked) throughout the parks.  I really felt that I needed more help than usual for this trip in particular, especially in light of all of the changes going on at the World and because I was traveling with some family members, including children who were enjoying their first (and possibly their only – I know, the horror!) trip to the World.  I will admit that I was a little intimidated by My Disney Experience and FastPass+, and didn't want to take care of it by myself, just in case it didn't go well.  So, I approached one of the travel agents on one of the podcasts I listen to, who is an authorized Disney travel agent, and it was the best move I ever made.  She literally took care of everything for me.  At 180 days before our trip, I told her at what times and at what restaurants I wanted to eat, and she took care of making all of my ADRs.  Being the control freak that I am, I insisted on being on the phone with her at the same time, but she did all the work.  Oh, and did I mention she did all of this at 6:00 a.m. on a Sunday morning?  Yup.
At 60 days before our trip, she made all of my FastPass+ reservations for me because, even though I tried making them on my own on My Disney Experience, at midnight, it wasn't working for me.  I quickly texted her, and, because she happened to be up, she jumped on her computer and took care of it for me.  Phew!!!  I literally wouldn't have gotten anything without her.
Any questions I had, she answered.  I emailed, I texted, I called – and she took care of it all…and even said she was willing to work with me again!  She was phenomenal.  So much so, that we're using her again for our upcoming trip.
One thing I must point out, however, because many people simply don't know, is that you do not pay for a travel agent's services – your travel agent will be paid a commission by Disney directly for booking your trip – you don't pay a penny extra.
Having said all of this, you are the best judge of what will work best for you.
If you decide that you want to use a travel agent, I reiterate that you should definitely use a Disney-authorized travel agent, a specialist in Disney travel.
Please feel free to visit www.themouseinourhouse.com for help in choosing a Disney-authorized travel agent.  You can also contact me at themouseinourhouse [at] yahoo [dot] com with any questions or for assistance.  I would be more than happy to help you in any way I can.
So, now that I've walked you through Step 1, let's do this once more:
Close your eyes.  Take a deep breath.  Now, say to yourself:
"I will not feel overwhelmed.  I will not get overwhelmed.  I will not be overwhelmed."
Open your eyes.  Smile – you're going to Disney!!!
Now, one step at a time, let's start planning your trip.
~ Monica
About Monica P.

I am a wife and mother and passionate about Walt Disney World.  I love preparing for our Disney trips and am constantly reading up on all things Disney, listening to Disney podcasts, and am a member of various Disney Facebook groups. In addition to my website, www.themouseinourhouse.com, I am also a blogger for The Mouse For Less (www.themouseforless.com).

You can catch me on:

Facebook:  www.facebook.com/groups/themouseinourhouse

Blogspot:  www.themouseinourhouse.blogspot.com

Twitter:  @MouseInOurHouse

Instagram:  The Mouse In Our House

Pinterest:  The Mouse In Our House

Email:  themouseinourhouse [at] yahoo [dot] com

Come along with me to celebrate and explore all things Disney from my perspective.