Just a year ago I never would have thought we would "own a piece of the magic".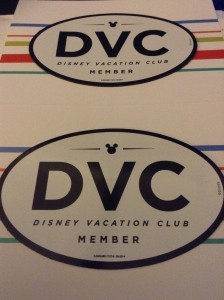 I was always aware that Disney had their own timeshares, but never paid much attention. We had usually just saved enough to get us there, and were never really sure when we would be able to come back.
I didn't know the details, we would walk past the kiosk and say "I can only imagine what that must cost"! One night a couple of years ago I was listening to my favorite podcast (wink wink) and there was an episode about buying DVC resale. I had no idea this existed! Forget about getting to sleep now! I listened to the whole show (one of their longest, I believe) and listened again the next day at work. This started the investigating. I had to know how this worked!
Even as I found out more and more about how DVC worked, I never thought we would be members. I started looking at all variables for resale, the actual points cost per resort, the yearly maintenance fees and of course location, location, location! I would email hubby all the info I found. I would compare the overall cost to what it would equal in stays at our favorite moderate resort.
On our last trip in Sept. 2014 I was planning to go to the presentation for DVC. A few weeks before we were leaving we received a card in the mail for a $50 gift card if we scheduled in advance, so we did! Anyone even interested in learning more about DVC should sign up for the DVC video on the website and let them know you have a trip planned. We were picked up by our private van and taken to Saratoga Springs. I feel the two hours we were there were totally worth it. A couple of hours talking Disney for $50 and free ice cream after, yes please! The DVC guides are low pressure, just go in knowing you are there to gather info. Let them know it is something you are only just starting to consider. I have to say they almost got us, they do make it very enticing for any Disney lover.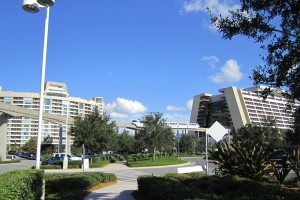 I was ecstatic that John was on board and even excited of the idea of buying DVC. I know when he really wants something we find a way to make it happen (I also agreed to give up a new car – for now 😉 ). The guide also hit a nerve with John by saying that each trip you take not as a DVC member is like renting, not "owning".  Once we got home, I started to really show John the numbers and we had to make a decision on how many points we really needed. For us, we settled on 100 points and we knew we wanted Bay Lake Tower. We tend to go in September when point values are lowest and it is usually just the two of us, so this amount seems to be enough. Going resale we saved $60 per point. I did the numbers one more time and figured out that if we continue to go every year, we will be paying less and staying Deluxe. Also, because life happens, you can rent your points out for cash – another selling point for Hubby. This is also the best option for the places not included when you buy resale (Disney Cruise Line, Adventures by Disney, The Disney Collection …). These are not economical use of your points, so you should get the cash for them. For example to stay at CSR (included in the Disney Collection) one night is 22-25 points per night for water view even in Sept. Theme Park View, studio BLT – 19-23 points. As much as I love Coronado Springs … I would have to say the Bay Lake Tower room is the much better option … wouldn't you? 🙂
We never thought we would ever stay at the Contemporary, the Poly or The Grand Floridian. Now we are not so patiently waiting for our first stay as members and have the opportunity to stay at any one of them every year. Why wouldn't we do it!?!
If You Can Dream It You Can Do It. °o°
Susan Brass