By Tyler Braun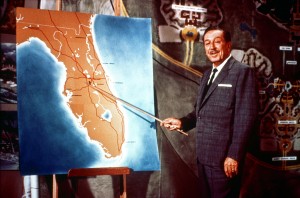 It would be difficult to overstate the importance of Walt Disney in my life. There are the obvious reasons, of course: without Walt, there are no Disney movies or parks, both a huge part of my life, without Walt I wouldn't be writing this blog right now, I never would have met Bob or Tim or any other Loopers out there. The case could even be made that without Walt, I never would have met my fiancé, Jessica, as we met performing in Aladdin the Musical on stage. It's not these large examples about which I'm writing, however. I'm writing about how Walt is an influence in my daily life. The life he led and the examples he set are great motivators of my actions. In this series, I hope to explore these virtues in depth and perhaps give light to how many of us could benefit from leading a life more like Walt. Walt was not perfect, but his drive and passion for everything in life is a great model on which to pull from when we examine our own lives. In looking at the life of Walt, it's incredible to think of what he accomplished in only sixty-five years. Now not all of us need to create giant empires and leave our names and legacies to the ages, but the precedent set by Walt should be a standard by which we all strive. In each post in this series, I will highlight one virtue Walt exemplified and a story from his life that illustrates this virtue. In turn, I will then discuss ways to interweave these virtues into our daily lives.
Endurance in Walt's Life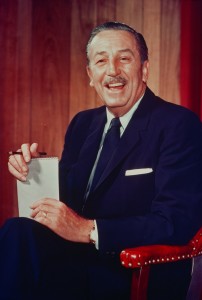 The first virtue I am choosing to write about is endurance. I chose this for my first post for many reasons, the two biggest of which are a) this was one of Walt's fiercest and most notable qualities b) it's one I attempt to demonstrate in my own life most often. There are countless stories by which Walt showed his endurance, from childhood through to the end of his life. As a child in Kansas City, MO, Walt's father bought a paper route and employed his youngest son as a delivery boy. Walt would rise at 3:30 AM to get the papers delivered by 6:00 AM before school, walking up to each door individually to place the paper between the door and the storm door at his father's insistence. After school each day, he would follow the same route to deliver the evening papers usually getting home in just enough time to eat dinner and get in bed. During the harsh Kansas winters, he would often find himself in snow drifts that buried him under mountains of white, and yet he pressed on to finish his route each day.
In his early twenties, Walt faced another huge obstacle when his first cartoon character, Oswald the Lucky Rabbit, as well as his entire staff, was forcibly taken from him after disputes with his distributor. Walt's entire team and his prized character were gone, everything that he had worked so hard for had gone up in smoke. It would have been all too easy for him to get fed up with the entertainment business and find another job, but Walt endured. As legend has it, on a train home to Los Angeles from meetings with the distributor in New York, Walt created the character we all know and love today as Mickey Mouse.
Years later, Walt would again test the boundaries of endurance when he decided to bet everything he had on a full length feature cartoon, Snow White. Walt was ridiculed by the press who nicknamed the movie, "Disney's Folly". Many entertainment insiders urged Walt to stop production, telling him this was going to be nothing but a huge waste of time and money.
When Walt first announced plans to build a theme park he was met with a very similar response. Yet in both instances, Walt endured. He shut out the detractors and forged ahead, changing the entire landscape of the entertainment world as he went. Nothing could discourage him; not critics, not money issues, not even a world war. He pressed on, and changed the world one project at a time.
Endurance in Our Lives
Walt came from very humble beginnings and created an empire through endurance even when the outlook seemed more than bleak. I'm sure there were times when he wanted to give up, but he never did.
In the last few years, I've started running. When I first started it was difficult to run more than one mile, and yet, I recently completed my second half-marathon and I'm currently training for my first full marathon. I've often thought of Walt as I run and remembered how even through the worst of circumstances he never gave up. He kept pushing himself and never let himself be anything other than his best.
We can all learn from Walt's endurance. Next time you're going to give up, remember how he kept going. Keep up your diet, finish that short story you're writing, keep learning that new language, you'll be surprised how much you can accomplish if you just endure a little bit more like Walt.
Tyler Braun
Tyler is a traveler, writer, & photographer and is currently engaged to fellow Resort Loop Blogger, Jessica. Check out TylerTravelsTV.com for more travel and Disney Parks blogs, and subscribe to his Travel YouTube Channel at youtube.com/tylertravelstv