By Monica Pinto
You've decided you're going to Disney! Yay!!! How exciting! Especially if it's your first trip. In this series, I'm walking you through the 1, 2, 3's of planning your Disney trip.
Steps 1 and 2 walked you through deciding whether or not to use a travel agent and when to travel to Walt Disney World.
So, now that you've tackled those two decisions, it's time to make another big decision about your trip: On property or off?
Close your eyes. Take a deep breath. Now, say to yourself:
"I will not feel overwhelmed. I will not get overwhelmed. I will not be overwhelmed."
Now, open your eyes. Smile – you're going to Disney!!!
Come on – let's go through the 1, 2, 3's of planning your Disney trip together.
Step 3: On Property Or Off?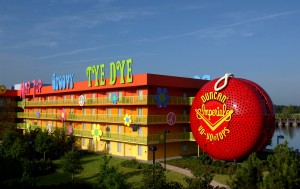 All of these options have pluses and minuses depending on your own needs.
There is absolutely nothing wrong with staying off property. By the same token, there is absolutely nothing wrong with staying on property.
If you don't feel strongly either way, you should do some research. Consider price differences, travel time, perks, dining, distance from the parks, etc.
Right or wrong, for our family in particular, the answer is on property. There are a lot of reasons for this which I'll discuss below. Let's be clear, I'm not saying we'll never stay off property, but at this moment, our family has always chosen to stay on property for all of our trips without question or second thought.
So why do we choose to stay on property? Well, let me tell you just a few of the reasons…
1. The Disney Bubble.
What's that now – a bubble? What am I talking about you ask?
Okay, let me explain. No, it's not literally a bubble. But it is Amazing! We love our Disney bubble. The Disney bubble is simply this – when you stay on property, you disconnect from the rest of the world and become immersed in the World – Disney World, that is. You are surrounded by that famous Disney magic 24 hours a day. You happily stroll along your days seamlessly from your resort to the parks completely surrounded by Disney at all times, sometimes in big, splashy color, and many times in very subtle and muted tones. Yes, you'll still have your social media available to you, but, I think you'll find yourself too interested in everything going on around you to worry about what's going on outside of Disney's gates.
2. Disney Service.
Disney's reputation for excellent service is universally known. I don't think I can say much more about it – it's all been said. The cast members are generally terrific and friendly, always ready to help and provide a little magic. The service is second to none and will make your trip unforgettable. Even if there is something that is less than magical, Disney always does its best to make things right and sprinkle some pixie dust.
3. Disney's Magical Express (DME).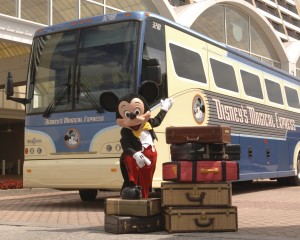 This is available only to resort guests arriving at Orlando International Airport. The DME motor coach will transport you from the airport to your resort, eliminating the need for a shuttle, taxi, or other means of transportation, including a rental car. Already, staying on property is saving you money.
But…there's more!
Here's a really awesome perk of using DME – when you check your luggage in at your home airport, you won't have to deal with it again until it magically appears in your resort room, eliminating the need to go to baggage claim and saving you time. Just go directly to the DME kiosk and hop onto your motor coach.
At the end of your trip, DME will transport you back to Orlando Airport. Once again, Disney will take care of your luggage for you until your arrival at your home airport where it will magically appear at baggage claim. Sorry, but Disney won't make it magically appear at your home. You'll have to book another trip to see that trick again!
Here's a tip: Since it can take up to 3 hours to receive your luggage at your resort, make sure you have anything you'll need for the next several hours with you in your carry-on, such as medications, sunblock, and other important items.
4. Extra Magic Hours (EMH).
These are an excellent perk, and one of our family's favorites. Here's why: These are extra hours when the parks are open for resort guests only, giving us the additional perk of smaller crowds. For example, let's say the Magic Kingdom (MK) is scheduled to open at 9:00 a.m. but is offering one EMH that day. As resort guests, we can enter the park at 8:00 a.m. which translates to an extra hour of lower crowds that our family uses to get on the more popular rides that will have long wait times later or to take advantage of some character meet and greets.
Additionally, select parks will offer up to two hours of EMH after closing. For example, let's say Epcot is closing at 9:00 p.m. but is offering two EMH for that day. As resort guests, we can stay at the park until 11:00 p.m. with smaller crowds. We love taking advantage of that extra time and are often able to walk onto the more popular rides without a long wait.
You will need to check the Walt Disney World Resort website, www.disneyworld.disney.go.com/calendars, to determine which parks are offering EMH on particular dates.
5. The Disney Dining Plan (DDP).
Let's face it – food at the World is very expensive, so being able to get the DDP is a huge perk for our family. It is only available to resort guests and allows you to purchase your meals ahead of time. You receive an allotment of meal credits – quick service meals (fast food), table service meals (sit down), and snacks for each night of your stay, depending on which plan you choose. Our family always picks the Magic Your Way Package Plus Dining, which translates to one quick service meal, one table service meal, and one snack per person per night of our stay. If you're staying for 7 days/6 nights, then you will get 6 credits per person for each type of meal and 6 credits per person for snacks. This does not include alcoholic beverages, but it works great for our family. We can eat at the most expensive restaurants on property or grab a snack without worrying about the additional cost. Another perk is that resort guests can make their Advanced Dining Reservations (generally for sit-down meals) 180 days in advance of their trip.
6. Unlimited Disney Transportation.
Disney transportation – buses, monorail, and boats – generally run on a continuous loop from the resorts to the parks and Disney Springs (formerly Downtown Disney) and are very clean and comfortable. We mostly use the buses to get to the parks, and they run on a continuous 20-minute loop, so it makes getting around the parks pretty easy. This is great because there is generally no need to rent a car or the need for taxis, so that saves resort guests a lot of money in rental fees. Additionally, it makes it easy to take mid-day breaks if you want to go back to your resort for a little rest and relaxation.
7. Advance Booking of Disney FastPass+ (FP+).
A major perk for resort guests is being able to book their FP+ 60 days in advance of their visit. Guests staying off property have to wait until 30 days prior to their trip to book their FP+. Although this is not a major perk for our family in particular (and the reason it's last on my list), it does seem to be a huge perk for many guests.
So, now that I've walked you through Step 3, let's do this once more: Close your eyes. Take a deep breath. Now, say to yourself: "I will not feel overwhelmed. I will not get overwhelmed. I will not be overwhelmed."
Open your eyes. Smile – you're going to Disney!!!
Now, one step at a time, let's continue planning your trip.
~ Monica
I am a wife and mother and passionate about Walt Disney World. I love preparing for our Disney trips and am constantly reading up on all things Disney, listening to Disney podcasts, and am a member of various Disney Facebook groups. In addition to my website,www.themouseinourhouse.com, I am also a blogger for The Mouse For Less (www.themouseforless.com).

You can catch me on:

Facebook: www.facebook.com/groups/themouseinourhouse

Blogspot: www.themouseinourhouse.blogspot.com

Twitter: @MouseInOurHouse

Instagram: The Mouse In Our House

Pinterest: The Mouse In Our House

Email: themouseinourhouse [at] yahoo [dot] com

Come along with me to celebrate and explore all things Disney from my perspective.