By Tamara Speidel
With the escalating costs of ticket prices at Walt Disney World, many of you might be wondering if attending a "hard ticket" event like Mickey's Not So Scary Halloween Party (MNSSHP) is really worth it. In a nutshell, YES it is! (For the Disney rookies, a hard ticket event is a special event for which you have to pay extra in order to attend – it is not included in your regular park admission.) Here are the top five reasons I think it is worth it: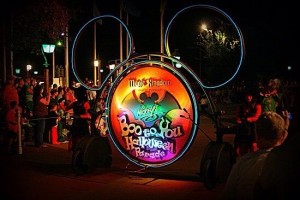 1) IT'S CHEAPER!
You do not have to have a park ticket AND a MNSSHP ticket. Buying the party ticket ($68 – $87 depending on the date of the party you attend) is cheaper than a regular day of admission to Magic Kingdom ($105) and you still get up to 8 hours of time in the park. While the party is advertised as running from 7PM to midnight, you can actually get in as early as 4PM (this has been the practice for the past few years anyway, but it is always subject to change). When you arrive at the park, you show them your party tickets and then receive your special party wristband. Guests who do not have the wristband after 7PM are not permitted to get on the attractions . . . they are courteously and gently herded toward the park exit by cast members strategically placed throughout the park.
2) IT'S LESS CROWDED!
Since the number of tickets sold for each party is limited, there are fewer guests in the park. I have not been able to find out exactly how many tickets are available for each party, so I am not sure just how limited the admission tickets are . . . but I can guarantee that there is a lot more elbow room in the Magic Kingdom during these parties. As a matter of fact, when our family attended the MNSSHP on October 28, 2014 – a party that was totally sold out – we could complete a ride and then re-ride it numerous times in a row with very minimal wait times. Big Thunder Mountain Railroad, Space Mountain, and Splash Mountain were practically walk-ons; even Peter Pan was less than a 10-minute wait! Being the newest of the "mountains" in Magic Kingdom, Seven Dwarfs Mine Train still had long wait times, unfortunately.
3) FREE CANDY!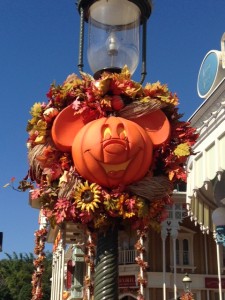 Okay, so I may be pushing it by using the word "free" . . . I mean you had to shell out money to attend the party but just go with me here, okay? There are about a dozen Trick-or-Treat Trails throughout the Magic Kingdom. When you arrive for the party you are given a trick-or-treat bag to use to collect all the candy you care to trick-or-treat for. If you have a sweet tooth and don't need to worry about packing your haul into luggage for your trip back home, you may want to consider bringing your own, larger bag. You can go through the Trick-or-Treat Trails as many times as you want and most cast members are very generous in their handouts, especially as it gets closer to closing time. Be forewarned however, the candy is not Disney themed; it is your typical packaged candy you can find in any grocery store (Laffy Taffy, Hershey's, Skittles, etc.). If someone in your group has food allergies or special dietary needs you are able to trade out the regular candy for something more suitable to your needs at Guest Relations. The lines for trick-or-treating were waaaaaay longer than those for rides, so be prepared for that.
4) SPECIAL MERCHANDISE!
I must confess right up front . . . I do love to shop! When you attend MNSSHP you are able to buy special merchandise that is not available outside of official party hours. The items offered vary over the years, but you can usually find party specific t-shirts, Vinylmation, and trading pins. If you are into Sorcerers of the Magic Kingdom, you will be happy to know that you can get a free, exclusive Sorcerers of the Magic Kingdom card at the party too. They are in high demand and limited in quantity so I recommend getting yours early! (For those of you who are unfamiliar, Sorcerers of the Magic Kingdom is a role-playing card game similar to Dungeons and Dragons or Magic the Gathering, but is based on Disney characters and contains some interactive elements throughout the park.)
5) SPECTACULAR ENTERTAINMENT!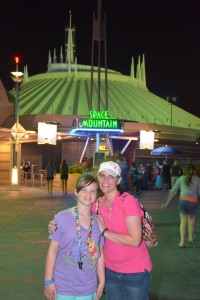 Mickey's Boo to You parade is the best parade ever! The songs and music will get into your brain and stay there. (Stuck. For. Days.) The way Disney combines music, lighting, choreography, and costuming is simply brilliant. The Headless Horseman riding his horse through the streets to start the parade is amazing (though maybe a little scary for the wee ones) and puts you in a spooky, Halloween mood.  You will see familiar characters like Mickey and Minnie dressed up in their Halloween costumes, waving and engaging with the crowd. In addition to the classic Disney friends and princesses, there are also rare appearances from characters of attractions like Haunted Mansion and Pirates of the Caribbean. The parade takes place twice during each party night. The first parade starts at 8:15 PM and the second at 10:30 PM.
There are so many reasons I think attending MNSSHP is definitely worth it and a must do . . . From the energy and service of the cast members during the party to the special character meet and greets (you can get your picture taken with ALL SEVEN of the dwarves together, for Pete's sake!) I could go on and on and on.  Our family will be attending the party again this October, so stay tuned for a "party report" after our trip!
Tamara is a "Type-A Disney Nerd" who spends her free time planning her family's next trip to Walt Disney World, talking about Disney, or reading about Disney.