By Monica P.
TAKING A BITE OUT OF DISNEY:
AUNT LIZ'S GOLDEN FRIED CHICKEN (50's Prime Time Café)
So, you're back from your wonderful Disney vacation and are suffering from the Disney blues… What to do, what to do…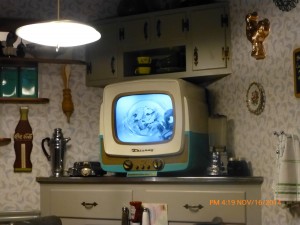 Well, one way to be rid of that melancholy is to keep a little Disney in your own home.  You can do that in many ways – read Disney books or magazines, watch DVDs, get started planning your next Disney vacation, put on some character clothing, look at your vacation pictures, etc. – just to name a few!
But, one of the best (and tastiest) ways to get out of that Disney depression is to cook up some of your favorite Disney meals!  Nothing makes you feel like you're back on that amazing trip more than the smells and tastes of what you ate around the World.
So, if you're ready to head back to Walt Disney World – at least in your mind – I'm here to help!
I invite you to join me on this cooking tour of Walt Disney World presented to you in this series, Taking a Bite Out of Disney, where I'll provide a new Disney recipe about every other week or so.  So, if you love (and miss) Disney food and enjoy cooking, here we go!
Many people are diehard fans of the 50's Prime Time Café over at Disney's Hollywood Studios, and one of the dishes everyone raves about (and a personal favorite) is the delicious fried chicken they serve up.  So, if you'd like to enjoy it at home (and considering I've already scoured the internet to get the recipe for you, that should be pretty easy), just throw on your Mickey apron, set your table, grab your ingredients, and delight in a little bit of Disney in your own home.
Aunt Liz's Golden Fried Chicken
Ingredients
1 whole chicken
3/4 cup wheat flour
* If you're gluten free, I recommend swapping out the wheat flour for gluten free flour – no reason to deprive yourself!
3/4 cup soy flour
1 tbsp salt
1 tbsp paprika
1 tbsp black pepper
1 tbsp garlic powder
2 oz. whole dry eggs
1 tbsp red pepper
2 oz. non-fat dry milk
Directions
Cut the chicken into pieces – 2 breasts, 2 thighs, 2 legs, and two wings.
Mix all of the above ingredients in a large bowl.
Clean and wash the chicken well, and keep it wet.
Dredge each piece of chicken in the breading mixture.
Deep fry each piece in hot oil until golden brown.
Delicious, right?
I hope you enjoy taking a bite out of Disney right in your own home!
~ Monica
* Please note:
This recipe was found on various Disney and non-Disney websites, including www.doctordisney.com.
The gluten free flour suggestion is my recommendation for those of us that have special diets requiring gluten free options.
For additional gluten free information and food options at the World, please check out www.glutenfreedairyfreewdw.com.
About Monica P.

I am a wife and mother and passionate about Walt Disney World. I love preparing for our Disney trips and am constantly reading up on all things Disney, listening to Disney podcasts, and am a member of various Disney Facebook groups. In addition to my website,www.themouseinourhouse.com, I am also a blogger for The Mouse For Less (www.themouseforless.com).

You can catch me on:

Facebook: www.facebook.com/groups/themouseinourhouse

Blogspot: www.themouseinourhouse.blogspot.com

Twitter: @MouseInOurHouse

Instagram: The Mouse In Our House

Pinterest: The Mouse In Our House

Email: themouseinourhouse [at] yahoo [dot] com

Come along with me to celebrate and explore all things Disney from my perspective.