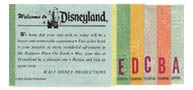 Nearly 50 years ago my family made our first and only trip to Disneyland as a family. Nothing like Disneyland was close to the little town in South Eastern Illinois where I grew up. I lived among farmers, railroaders and refinery workers. My mother was a teacher and her father was a farmer who worked a small farm just outside of town. My father worked on the railroad and eventually as an operator in the oil refinery in the next town to the west of my home town. My dads father worked worked at the refinery as well. When I was young, I was fed a constant diet of Disney Movies. My parents would drop us off at the local theater for a screening of Snow White or one of the other classic Disney Films. While I can't recall the exact titles that we saw back then, I know that those Saturday matinees were the seeds for a growing love of all things Disney that lasts to this day.
To a small town boy like me, Disneyland was a fantasy, a faraway land filled with castles and adventures. I wasn't even aware that our trip to California to see my Uncle would include a trip to Disneyland. My Uncle, Bud as we called him, was an Air force Veterinarian and cared for the dogs that were on the base. After a few days in Sacramento visiting with my Uncle, which was a lot of fun to begin with, my parents dropped the surprise on us. We were going to Disneyland. We packed a small bag because we were going to stay overnight in a hotel close to Disneyland. I don't remember which hotel but I'm pretty sure that it wasn't the Disneyland Hotel. Our hotel choice really didn't matter to my 10 year old self. I was going to the place that I had seen on Disney's Wonderful World of Color on NBC. At that time, I think we still had a black and white television set. I would get to ride the Monorail and ride the Tea Cup attraction. Back then, my equilibrium was much better than it is today. We had a flat tire on the way to the airport to catch our flight. Back in those days, it wasn't so uncommon for airlines to hold flights for a few minutes if you let them know you were coming. That has changed over the years. One of the strongest memories from our Disneyland trip was the bus ride from LAX to Anaheim. It seem to take forever. You know how time passes differently for people under the age of 25. We had purchased books of tickets for the attractions. Most of the attractions we wanted to see were, of course, the E-ticket attractions. We did the Pirates of the Caribbean and the Haunted Mansion, and these two rides, to this day, are among my favorite attractions. We also rode the Mad Tea Cup ride as well. It was a great day
I suppose one of the best things about Walt Disney World and Disneyland is that there is always something that makes you want to go back for more. In the case of my original trip to Disneyland, we didn't get to ride the Matterhorn. All the E-tickets had run out and my parents had run out of budget for more. I don't think I made a big deal of it. My parents however, might disagree, but, I swore that someday I would come back to Disneyland and ride the Matterhorn bobsleds. Little did I know it would take 45 years to accomplish and realize the Matterhorn promise to myself. I finally was able to wrangle a trip to Disneyland again when I went on a business trip to California in 2014. It was great seeing the original Pirates of the Caribbean again, even though this time around it had Jack Sparrow and Captain Barbossa. The attraction seemed longer than the attraction in Walt Disney World. It was fun slipping past the Blue Bayou restaurant that sits inside the attraction. Disneyland's Pirates of the Caribbean also includes more of a Louisiana Feel about it. After 45 years of waiting, I finally got to ride do the Matterhorn Bobsleds. Something funny about all of this is that, after waiting for so many years to ride the attraction, I might have grown a little bit. I was able to fit in the car alright but my knees were cramped up a little and it was a bit of a struggle getting out of the car. I still loved it however, and rode it again on my return to Disneyland last year.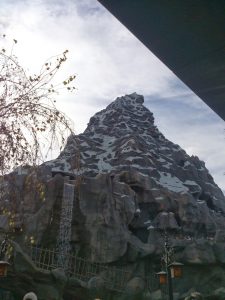 My next visit to Disneyland might be quite some time in the future. My Business needs to visit Southern California may end in March of 2019. This saddens me because I have come to love Walt's original park. Fortunately, sometime in the fall of 2019 or early 2020, I will get the chance to let my inner 10 year old loose again to play in Walt Disney World. I hope to keep you all posted with the planning process.