By Monica Pinto
TAKING A BITE OUT OF DISNEY:
Flank Steak Marinade (Liberty Tree Tavern)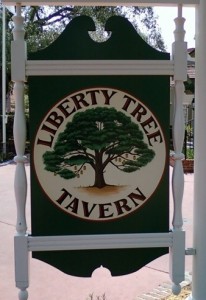 So how did you all like the BBQ Sauce and Rub recipe from Flame Tree BBQ?  I'll bet it made you feel like you were right back on Discovery Island in the Animal Kingdom enjoying a fabulous pulled pork sandwich.  You can almost hear the birds chirping around you and probably feeling a little "Africa hot".
With the warm weather approaching, and everyone getting ready to start barbecuing, I thought this would be a good time to share a summer-friendly recipe.  So, we're heading over to one of my personal favorites, Liberty Tree Tavern, in the Magic Kingdom.  Although I enjoy all of the Thanksgiving-type foods that come with the Patriot's Platter – the roasted turkey breast, the mashed potatoes, and the stuffing – I truly enjoy the flank steak the most.  It's just so delicious!
If you do, too, I have some good news!  Now, you can prepare the flank steak for yourself.  Yay!!
So, if you'd like to enjoy it at home (and considering I've already scoured the internet to get the recipe for you, that'll be pretty easy), just throw on your Mickey apron, set your table, grab your ingredients, and delight in a little bit of Disney in your own home.
Flank Steak Marinade
Ingredients
4 tsps salt
2 tsps black pepper
2 tbsps curry powder
2 tsps cumin
2 tbsps rosemary, freshly chopped
4 tsps paprika
2 tsps coriander
2 tbsps granulated garlic
2 tsps dried oregano
Directions
Combine all of the ingredients and store in a sealed container.  Rub the steak with the marinade and refrigerate for at least one hour, or up to 24 hours in advance.
Once you're ready, grill the steak as you normally would.
Delicious, right?
I hope you enjoyed taking a bite out of Disney right in your own home!
~ Monica
About Monica P.

I am a wife and mother and passionate about Walt Disney World. I love preparing for our Disney trips and am constantly reading up on all things Disney, listening to Disney podcasts, and am a member of various Disney Facebook groups. In addition to my website,www.themouseinourhouse.com, I am also a blogger for The Mouse For Less (www.themouseforless.com).

You can catch me on:

Facebook: www.facebook.com/groups/themouseinourhouse

Blogspot: www.themouseinourhouse.blogspot.com

Twitter: @MouseInOurHouse

Instagram: The Mouse In Our House

Pinterest: The Mouse In Our House

Email: themouseinourhouse [at] yahoo [dot] com

Come along with me to celebrate and explore all things Disney from my perspective.
* Please note:
The ingredients portion of the Marinade recipe was found on various Disney and non-Disney websites, including www.allears.net.