This past weekend I had the opportunity to check out the Star-Lord and Baby Groot Meet and Greet that is currently happening at Disney's Hollywood Studios in Walt Disney World. I wanted to share my thoughts on it and give some information for those who might want to see it for themselves.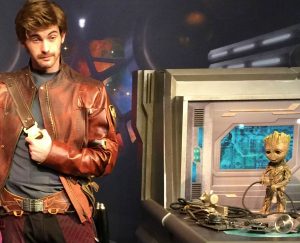 The meet and greet is situated in the very back of One Man's Dream, just beyond the right turn you make to enter the waiting area for the movie. There is a very small queue area which has walls that depict space. This area holds about a 20-30 minute wait, anything beyond that wait time will likely be queuing up within the One Man's Dream exhibits. There is no door between the characters and the queue so if it's not too loud in the queue, you can hear Baby Groots voice coming from around the corner. This leads to lots of excitement in the queue, especially from wide-eyed kids who cannot wait to see this very popular character. They let 2-3 groups in at a time so you get plenty of time to see Baby Groot and Star-Lord before it's your turn to meet them.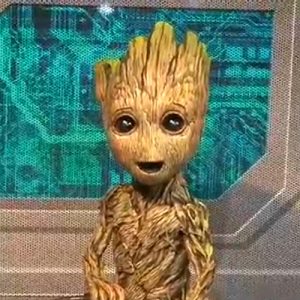 Star-Lord is a lot of fun. He dances to a song from the movie (Come a Little Bit Closer by Jay & the Americans) which plays in the background and invites guests to join in. He asks if you have skills that would be helpful to the Guardians of the Galaxy and attempts to recruit you. He also tells stories about Yondu and other characters in the movies. All this while he talks to Baby Groot and interprets what he is saying and encourages guests to talk to Baby Groot as well.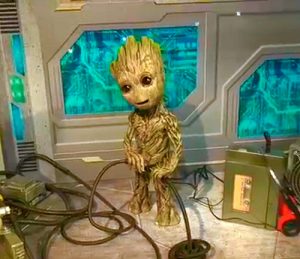 Let's face it, Baby Groot is just about as cute as can be in the movies and this is the case in the meet and greet too. He looks exactly like he does in the movie, including those soulful dark eyes. He says, "I am Groot!" about 10 different ways. He shakes his head, turns and faces the camera, blinks, smiles, frowns, looks around, and lifts his arms up and down. He responds to what your saying and doing. For example, a guest in the meet and greet forgot to record herself introducing him and when she announced it, he looked down and shook his head. When asked by Star-Lord what my special talent was I said I could sing and Groot said, "ohhhhhh!!!" in a bewildered voice. They let you take pictures with both characters together or individually. Plus they allow up close selfies with Baby Groot. The movement of his mouth is what fascinated me the most as you can't see any mechanisms or joints moving his mouth when he talks. It's all very impressive and just lots of fun.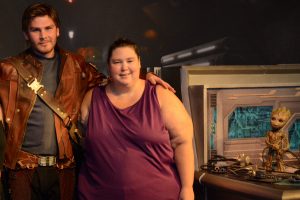 I did the meet and greet twice in one day and went back to take a friend the next day and Baby Groot was off on an adventure with Rocket so be aware that they will run it with just Star-Lord but they do tell you right as you get in line that Baby Groot is not there. Baby Groot and Star-Lord will not be around forever so if you get a chance, I highly recommend going to see them. Heck, even if your not a fan of the movies, it's worth it just to see how adorable and impressive Baby Groot truly is!!!
Deedee Herring