Magical Moments transformed into Magical Memories
By Greg Nevius
A couple of years ago on a WDW trip, we decided to check out the BoardWalk area. It was one of those spots we wanted to visit, but always ran short on time. There's just something about an early 1900's coastal city that's so charming and inviting. We needed to get there—one way or another!
It was late in the afternoon and we had just spent a majority of the day having a great time at Epcot. We were feeling a bit tired from the miles covered between both Future World and World Showcase, and were looking forward to having a slow, quiet evening.
With little opportunity left for free time in our vacation, we decided to go for it! It was now, or never.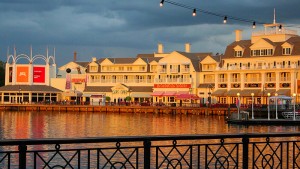 We boarded a Friendship Boat and enjoyed a leisurely ride to the BoardWalk for some dinner and entertainment. The sun was beginning to set and had cast a golden blanket of light over the entire area. It was picture perfect, and seemed to be a bit foretelling of what was going to happen.
After a quick meal and bit of relaxation, it was off to the surrey bikes for a challenging ride around the resort area. All that pedaling and the hills… my quads were not having any of it. So much for the slow, quiet evening. 😉
Following some recovery time, we were on foot again, strolling along the BoardWalk. We were having a great time checking out the quaint shops and enjoying a "new" and different part of the World.
We eventually made our way to the Midway Games. Being a stuffed animal fanatic, my 9-year-old daughter, Hannah, decided to try her luck at one of the games. Sadly, she didn't have enough strength to swing the mallet and send the lobster flying into the pot.
After a couple of unsuccessful rounds of play, we cut our losses and began to walk away. As we slowly moved on, a gentleman that had been playing the game—and doing really well—called out to us. He mentioned that he was "playing for fun" and whatever he had won, our daughter could have.
Wait… did I just hear that right???
I was completely surprised! Yeah, I would say totally dumbfounded. We were all in a bit of amazement at that moment. I've heard stories over the years about Disney Cast Members creating Magical Moments for park guests, but this gentleman was no Cast Member and the Magical Moment… incredible!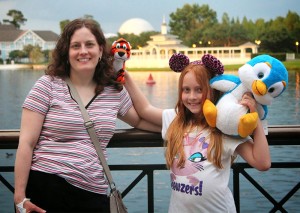 We graciously thanked the man and his friend for their extreme kindness and generosity. We offered to reimburse him, but he very politely declined. After a short chat and a parting handshake, we continued our exploration. Hannah was thrilled to have "won" a couple of stuffed animals and my wife and I were amazed at a total stranger's kindness.
As the sun dipped below the horizon and the lights were beginning to turn on, the BoardWalk came alive with renewed energy. Our excitement finally began to wane as exhaustion completely set in. And although we didn't want to call it a night, we decided it was time to head back to our resort.
Years later, we still talk about the kind gentleman from California and how happy he made Hannah feel. It's one of our most favorite memories. Ever.
Thinking back to that special evening, part of me wonders if he had ever done this before. Remembering his reaction to Hannah's surprise and joy, I'm inclined to think that he did so—many times over. 🙂
Once again, we say, "Thank you very much for your generosity! Not only did you make our daughter feel like a princess, but you gave us a Magical Memory to look back on."
I sure hope that he reads this someday.
About Greg Nevius

When not visiting the World with his lovely wife Lori and amazing daughter Hannah, Greg reminisces about past Disney vacations and looks forward to the next one!

He's a self-proclaimed "Disney historian in-the-making" and suffers from withdrawal if he can't check his Twitter feed regularly for breaking Disney news.

Greg hopes that his career in graphic and media design lands him a job with Disney. Someday. J

You can find him on Facebook at:
https://www.facebook.com/gregory.nevius

And on Twitter:
https://twitter.com/gnevius

Email:
gnevius [at] gmail [dot] com