I've always wanted to consider myself a foodie. But to do so would imply that I am in some way qualified to discuss the finer points of food, and at best – I'm just really good at eating food. The upside to that is, I eat a lot of food. I have an adventurous palate, and will try (almost) anything once. The downside to that is, well, I'm not an expert. I'm less likely to discuss aromatic layers, spice nuances, and culinary techniques; and more likely to talk about basic flavor, value, and, frankly, whether or not I liked it.
Since we find ourselves currently in the midst of the Flower & Garden Festival at EPCOT, I thought I might share a review from some of the Outdoor Kitchens during last year's event. Though only in their third year (they were called "Garden Marketplaces" in 2013), these Outdoor Kitchens have become fast favorites for visitors during this time, and offer a wide variety of flavors and choices.
So without further adieu, on to the food!
Our first stop was the Intermissions Café (located in the Festival Center) where we enjoyed:
•Caprese Push-Pops
•Fruit & Cheese Plate
•Hurricane Class 5 White Sangria
•SweetWater Blue (blueberry wine)

Although somewhat unimaginative, at around $6.50 we thought the fruit and cheese plate was still a great value based on size. It was easily shareable, and a great way to start out the morning!  At only $1.00, the Caprese push-pop (tomato, basil, mozzarella and balsamic) was fun and flavorful! I was disappointed to hear this did not make a return appearance at this year's event. The crisp and fresh Class 5 Hurricane Sangria has quickly become one of my favorite drinks at the seasonal kiosks. We enjoyed it so much, we brought a bottle home! The blueberry wine was a bit on the sweet side for my taste, at least for more than one glass.
Our next stop was Buttercup Cottage, where we had:
•Field Greens with Plant City Strawberries, Toasted Almonds, and Farmstead Stilton
•Pork and Apple Sausage Roll with house-made Piccalilli
•Fresh Baked Lemon Scones with Berry Preserves and Creme Fraiche
•Iron Horse Fairy Tale Cuvee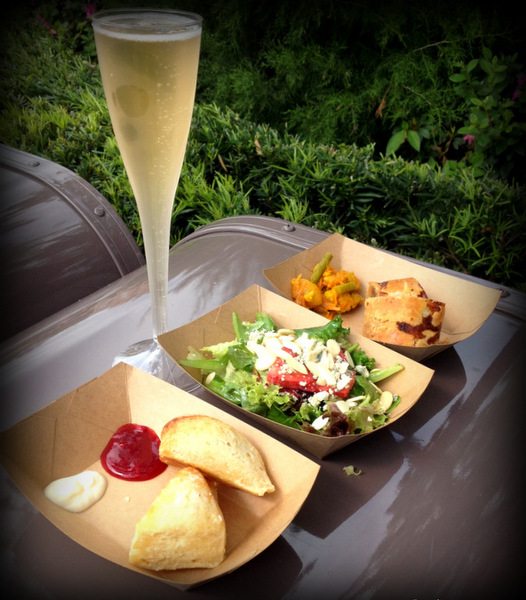 The scones (at $3.25) and the field greens (at $3.50) were among two of my favorite items. The greens were prepared as they were ordered, so they were fresh rather than soggy and had a really lovely summer/spring flavor. The scones were just fantastic, with a perfect balance of tart and sweet. Unfortunately, although I was looking forward to the sausage apple roll, I found it a bit lacking in flavor. I paired all of these treats with the Iron Horse Fairy Tale Cuvee (chosen because I loved the name). Although not usually a fan of bubbly drinks, I really enjoyed the light refreshing taste of this sparkling wine!
Around the World we went to Fleur de Lys in France where we enjoyed:
•Confit de Canard, Pommes de Terre Sarladaise or, pulled duck confit with garlic and parsley potatoes
•La Vie en Rose Frozen Slush (Vodka, Grey Goose Orange, St. Germain Liquor, White and Red Cranberry Juice)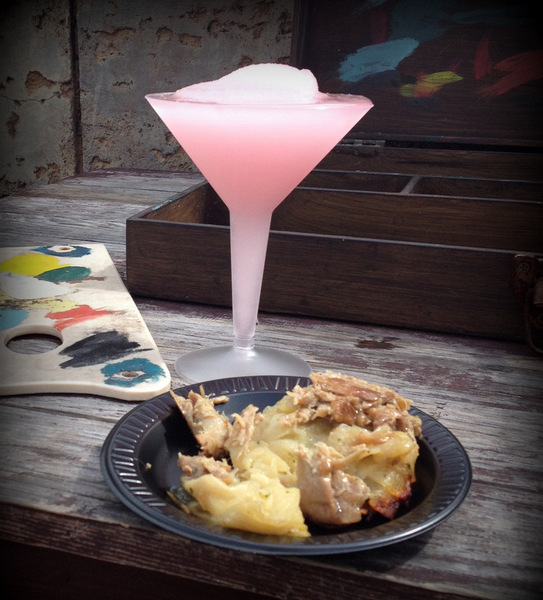 At $5.50, the duck seemed a bit on the pricier side (based on size). Although the flavor was nice, for me the nicest part of this dish was the potatoes – sliced thin and baked until nice and crispy. Delicious! The slush was LOVELY (as you would expect) and I would be thrilled to see it added to the permanent drink menu in France. It was a bit on the sweet side, but not intolerably so. Cost for the slush was $9.75, but it was a full size drink.
Pro-tip for those who enjoy their slushy drinks as much as I do:
Ask the Cast Member to pour your slushy slice of heaven into a regular cup instead of those odd flutes that spill over so easily! You won't lose a drop!
And now, my favorite part…the SmokeHouse!
•Pulled Pig Slider w/ Cole Slaw ($5.75)
•Smoked Beef Brisket w/ Collard Greens & Jalapeno Cornbread ($6.75)
•Smoked Turkey Rib ($4.75)
•Piggylicious Bacon Cupcake w/ Maple Frosting and Pretzel Crunch ($3.50)

Oh my. This was by far our favorite kiosk. Unfortunately, it was also our undoing – we couldn't eat another bite after we finished!
The brisket ($6.75) was our unanimous favorite. Tender, flavorful, and with two delicious accompaniments (collard greens and jalapeno cornbread) – this dish made the southern girl in me wanna slap my momma! The rib ($4.75) was quite good as well. It was more like a small turkey leg, but WAY easier to eat (none of those weird tendons). The slider ($5.75) was tasty, but I would have preferred a different sort of roll.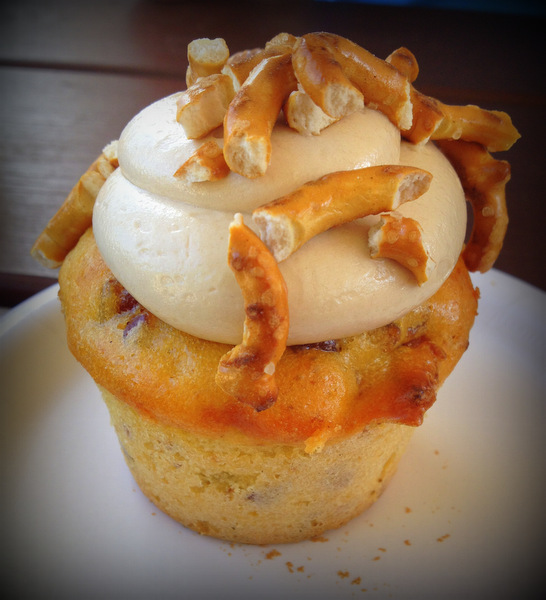 The Piggylicious cupcake was certainly fun and creative! Although delicious, this Disney treat is incredibly rich. My recommendation? Share it between friends – a bite or two is plenty.
We toured from around 11am until around 3pm and spent just under $100. Fortunately, I picked up one of the wearable gift cards upon arrival, so I could pretend I wasn't spending "real money".  Unfortunately, Jon saved every single receipt. But, hey, that made writing this report easier!

All in all it was a lovely day, and we are looking forward to returning to this event once again to sample some of the new offerings!
See ya real soon!
Rebecca Toon
Rebecca is a Disneyphile, Technophile, and would-be Foodie. She loves food, wine, and motherhood – not always in that order. She lives in Connecticut with her better half and two miniature adults that insist on calling her mom.