As I was listening to Bob and Tim (or is it Tim and Bob?) discuss the upcoming Food & Wine Festival in Episode #245, I was reminded of some of the memorable times Jon and I have had over the years at this event. This year, EPCOT will celebrate the 20th anniversary of the Food & Wine Festival; and of those twenty years, Jon and I have had the privilege of attending this festival twelve times. Of all the incredible experiences we've had, none stand out more than the Tequila Pairing Lunch we attended in 2014.
Preliminary note: I couldn't decide if tequila should be capitalized, so to be consistent, I did a shot…erm, I mean, I did not. Please don't judge me too harshly if I was incorrect. I googled, I swear.
Also noteworthy: Jon hates tequila.
We arrived at La Hacienda (located in the Mexico Pavilion of the World Showcase in EPCOT) slightly before noon and, slightly perspiring. This was pretty much down to my poor time management skills and absolute failure to be on time for anything. Ever. Except tequila.
We waited outside briefly until they began checking people in at noon. When it was our turn to be seated, we were greeted by the manager of La Hacienda, presented with our welcome margarita, and escorted to our table. The welcome margarita was a Horchata margarita, made with Exotico 100% agave premium silver tequila, Horchata liquor, agave nectar, Agua de Horchata, Fireball Cinnamon Whiskey, and topped with a dash of cinnamon. Quite refreshing, if a bit heavy, I noticed I was among only a handful of guests who finished their drink before lunch began. What? You wouldn't have expected anything less from me would you?
A word of warning to the more introverted members of our blogosphere – this lunch offered a very communal set up. The dining room of La Hacienda was arranged with one long table in the center of the room, which seated approximately half of the attendees, and a number of smaller tables along the perimeter (seating 4-6 guests each) that accommodated the other half. Jon and I were escorted to a table with two lovely women – a Florida native and her friend visiting from North Carolina. We made polite conversation at first, more as the afternoon went on, and ultimately ended the afternoon with the woman on Jon's side of the table throwing her arm around him and offering him her dessert tequila. He loved it; however, if you had told him that's how the afternoon would progress, he'd have caught the first bus over to Animal Kingdom and begged to be eaten by the lions.
Our Tequila Expert was Humberto Soto, and what an expert he was! Humberto is actually from Tequila, Mexico (there's our next vacation done!). He was infinitely knowledgeable and equally entertaining. He made his initial introductions by saying, "We're in Disney where everything is magical, so what better way to start then, 'Once upon a time in a magical town called Tequila…'"
As Humberto began educating our lunch group on the finer points of tequila, I began fantasizing about becoming a Tequila Expert. What is that saying again? Do something you love and you'll never be sober a day in your life. Wait, what? No? Ok, then. Here are some fun facts I do recall:
Tequila is a protected "Denomination of Origin" product made in only 5 states in Mexico (sort of like Champagne, Cognac, or Kobe beef).
The margarita is the country's most popular cocktail.
The U.S. consumes almost twice as much tequila as Mexico each year.
The top 10 states for consumption of tequila are: California, Nevada, Texas, Florida, New York, Arizona, Colorado, Georgia, Illinois and Ohio. I'll be working on growing the Connecticut sector throughout the upcoming months.
Continuing on, did you know there are two kinds of tequila?
Agave, or "authentic" tequila (100% Blue Agave Tequila) – the kind of tequila you would probably sip from a glass while pondering the deep questions of the universe.
And, "other tequila" (51% blue agave and 49% other alcohol sources) – the kind of tequila you would probably slurp out of someone's navel while singing La Bamba.
If you drink authentic tequila, it must say so on the label of the bottle. If you drink other tequila, you should probably sew your name on the label of your underwear.
On to the food! (And more tequila!)
Course 1: Pulpo en Escabeche (marinated octopus with vinegar, carrots, cauliflower, potatoes, cactus and hearts of palm) paired with Jose Cuervo Reserve Blanco.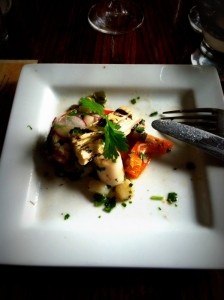 Yes, I know that the menu lists the cilantro soup first, but they spelled cauliflower wrong on the very same menu, for goodness sake…you don't think a little thing like correct ordering is going to make them lose sleep, do you? Perhaps they'd been dipping into the "other" tequila…

Having just discovered octopus in recent years, I am still reluctant to try it in new places. I needn't have worried; this was delicious. Tender and flavorful, the dish paired nicely with the bite and burn of the Blanco – my least favorite tequila.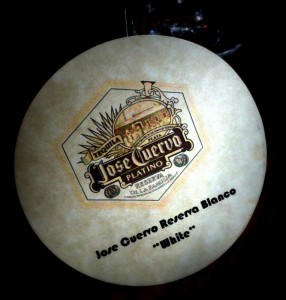 Course 2: Crema de Cilantro (cilantro and serrano peppers creamy soup, served with toasted pine nuts) paired with Milagro Select Repasado.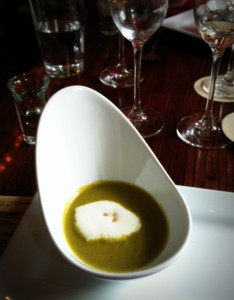 I was a little worried about this course. The only thing Jon dislikes more than tequila is cilantro…so this is pretty much where I expected the wheels to come off the entire meal. I quickly ate mine, secretly relishing the thought that I'd be enjoying doubles of this course, and then turned my spoon to Jon's uneaten bowl. Only it wasn't uneaten. In fact, it was empty. Well, empty except for a surreptitious index finger sliding across the inside wall of the bowl trying to retrieve the final drops of creaminess. HEY! His tequila glass was empty, too! Had I finally converted him?!?
A lovely, light and creamy course, the soup was delicious, with just a tiny bite from the peppers! It's also amazing how much smoother the Repasado is than the Blanco.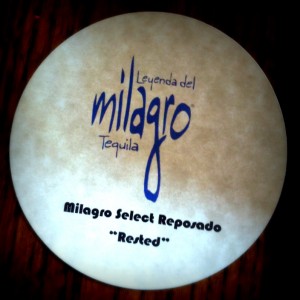 Short interlude to try the Mezcal…ah yes, tastes like "regret wrapped in a brown paper bag" – just as I remember it!
Course 3: Mar y Tierra (grilled filet mignon over roasted tomatoes, dry peppers, almonds and sesame seed sauce, marinated shrimp with guajillo peppers accompanied with a cactus leaf vinaigrette) paired with Gran Centenario Anejo.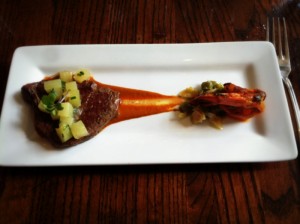 I love Anejo tequila. It is, in my opinion, sip-worthy by itself, but paired with the filet and shrimp, it was unstoppable! Truly a divine dish. The steak was cooked to absolute perfection, and the dish itself was a visual masterpiece! Definitely my favorite course of the meal.
Sidenote: Do I even need to point out how cool it is that vodka is considered a palate cleanser during this lunch?
Dessert: Postre de Mamey (custard made with Mamey (a fruit from the southern part of Mexico) served with fruit and cream) paired with 1921 Crema de Tequila.
Yep. It was exactly as good as it looks. Creamy, rich, absolutely gorgeous. I was halfway through mine when…Humberto suggested we pour our Crema de Tequila over it! Oh, sweet alcoholic gods, we thank you. I ate the rest of mine. I ate the rest of Jon's. I did not apologize.
A bit more conversation and education, followed by a fun quiz and then suddenly lunch was over. Sidenote: From this point forward, every correct quiz answer in life should be rewarded with a shot.
We lingered for a bit chatting with our lunch companions and, after a few moments, Humberto appeared at our table. We made the usual introductions (Hello, my name is Rebecca and I want your job.) and, sensing my allegiance, he leaned down and motioned over to the table beside us who's occupants had never appeared. He smiled and whispered, "You realize the beauty of those absent from us, don't you?" I grinned daftly. He handed me one of the untouched glasses…"Extra TEQUILA!"
A few final thoughts…this was truly a fantastic experience, and one I would absolutely repeat. Everyone was friendly, well-mannered, and genuinely attentive. At $75/per person (inc gratuity) we both felt as though the experience was a good value. The pours were adequate but not over-zealous, and even with our "bonus sips" I left feeling relaxed and happy rather than overfull and tipsy. Definitely a highlight of our trip, and one I actually learned a considerable amount during. I would certainly recommend this event to those who are serious about wanting to learn, as well as those just looking for a fun and educational experience.
Rebecca Toon