By Joe Quattrocchi
Originally Published on January 18, 2015 on www.runningatdisney.com.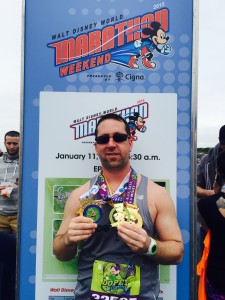 When traveling away for a race weekend, runners of all abilities will tell you that any race you run should be no different than your training runs at home. That goes for shoes, clothing, fuel, and of course food. So when the Walt Disney World Marathon weekend came upon us, as a runner who was participating in the Dopey Challenge, nutrition and eating while down at Walt Disney World is just as important as making sure that you have the right shoes with you.
I arrived down in the World on Tuesday before marathon weekend began. With all of the running that was ahead of me, especially coming from a cold weather climate, hydration was going to be key. I was staying at Port Orleans French Quarter so having access to a kitchen to make my own meals was not available. However, having a fridge in the room was a big positive. I made sure during the week that I stayed hydrated all the time. In order to accomplish this, I would drink plenty of water and save and reuse the bottles I purchased from the Port Orleans food court. (WDW allows you free water fills at their food courts and also water fountains throughout the park.)
As for eating properly, running 4 events over 4 days, you have to watch what you are putting in your body days before your events are to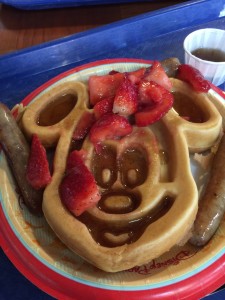 commence. So, I stayed away from salads and other fried foods/burgers that tend to be found all over Walt Disney World and went with healthier options. Our food court at POFQ had many healthy options for breakfast to include egg whites, fresh fruit and bananas, bagels, etc. I would usually eat these after the races were completed .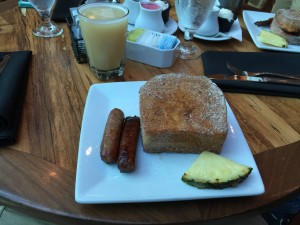 After waking up early, competing, and eating breakfast afterwards, I was not a big fan of lunch as I did not want to feel like i had to eat just for the sake of eating. But if I did get hungry while walking around the parks in the afternoon, I could grab a lite snack. Like their options in the food courts, Disney has gotten much better over the years with offering much healthier options throughout the theme parks. I would refill my water bottle in one of the water fountains, and grab a banana or piece of fruit while touring the parks.
As for dinner, as someone who does not like to eat before a race in the morning, dinner was going to be the most important meals for me while down for Marathon Weekend. If I was staying in a DVC or off property, it would be easy to just head to Publix and buy some pasta from the grocery store for my dinner. However, since this was not an option, ADR reservations would be extremely important as thousands of runners would have similar ideas as me for places to eat before the races. (Italian Restaurants are obviously the most popular). The restaurants that we chose to eat at were Via Napoli in Epcot, Trattoria al Forno at Disney's Boardwalk Resort, The Wave at Disney's Contemporary Resort, and the food court at Disney's Port Orleans French Quarter Resort. The reason why I chose these restaurants is because they all offered the one meal that I like to eat before a race, pasta.
I checked with numerous websites before I made my ADR reservations to make sure that they had the types of food that I would want to eat. At Via Napoli, even though the majority of the food on the menu is Pizza, they do offer spaghetti and veal meatballs option. The spaghetti was typical spaghetti but the veal meatballs was a nice change of pace and offered some lean protein, which is always beneficial to runners.
At Trattoria al Forno, the menu was a little more fancy. After glancing at the menu, It took some going back and forth with the waiter but I was able to order some linguine with short rib. Now at first, i wasn't too sure about this since I thought that beef short rib was going to be too heavy. However, the portion size was perfect and the flavor of the meat was amazing! I would highly recommend this dish on a regular/non-running night and am definitely going to add this restaurant into our restaurant rotation for Disney World. Also, there was plenty of bread to fulfill any lacking of carbohydrate fueling one might have had.
At The Wave, the menu was somewhat limited. However, I decided to mix it up a little and have the free roaming chicken breast with plenty of bread on the side. The chicken was cooked perfectly, the portion size was proper, and it did not make me feel like I was loaded down with heavy food or feeling bloated. I consume a lot of chicken breast while at home, so having chicken breast at the Wave with some bread fulfilled my carbohydrate and protein needs before the 10k race.
Finally, the last race night, we took it easy and had something at the Port Orleans Food court. One of the stations at the food court was an Italian type station that had macaroni and cheese, spaghetti, meatballs, and pizza. Of course (as you can see a pattern here), I had the spaghetti and meatballs. It was a nice quick meal that didn't require an ADR and that we could eat at our convenience and head to bed early in preparations for the marathon day.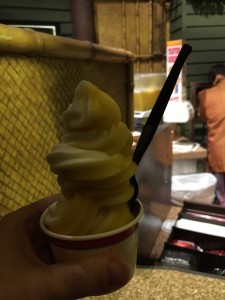 I learned that it was important to make ADR reservations as soon as our 6 month window opened because most runners would flock to the Italian type restaurants of Walt Disney World. My greatest fear would be to be searching for something to eat the night before the marathon and not be able to get served at a restaurant that served pasta or some type of Italian food. I did witness this at Trattoria al Forno as we were leaving the restaurant, I witnessed a runner arguing with the hostess at the front of the restaurant about trying to obtain a to-go order of pasta. This runner stated that he was a runner and just wanted a plate of pasta to go. The hostess stated that they could not accommodate him because he didn't have a reservation. So, note to all runners out there, it appears that Disney won't let you order to go meals at a restaurant if you do not have an ADR.
I know its hard to travel to a place that we all love and not consume Mickey Mouse ice cream bars, Dole Whips, citrus swirls, popcorn, and churros to name a few things. But you have to remember, we all paid a lot of money for these races, took time off of work and our real lives to travel down here for them, and also trained for months and months to have the best possible experience. It would be a shame to throw all of that hard work away by not fueling your body properly. All it takes is some planning ahead, take note of what you would normally eat while at home, and apply it while you are on vacation.
Finally, of course when you are done with your events, there is nothing wrong with having a nice big glass of beer and a Mickey Mouse ice cream bar! Because after all, you earned it!
About me:
A resident of the great state of New Jersey and nicknamed the "Original Super Looper," I am a Disney Vacation Club Owner and runDisney Enthusiast. I am a 2X finisher (2014, 2015) of the Walt Disney World Marathon as well as the 2015 Dopey Challenge. I also enjoy not only the Disney World Parks and Resorts, but also the Disney World Golf Courses as well.