Hey LooperNation, hope everyone is having a great Spring! Time to start getting ready for a fun, crazy summer. So I decided to do a review of the Liberty Tree Tavern, because nothing says summer like Thanksgiving style food, right? Okay maybe not, but it is ADR time for those who might be heading to Walt Disney World for the fall months and that would be the perfect time for turkey, stuffing and mashed potatoes so here we go!!!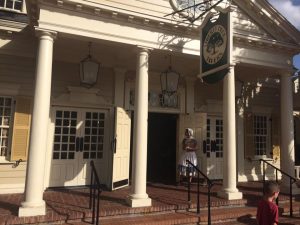 The entrance to Liberty Tree Tavern has a very Colonial feel to it. There is a simplicity to it that some might feel is understated but it is authentic to the time period. While you do have stairs to climb, there is a handicap accessible entrance that is to your left if your facing the building.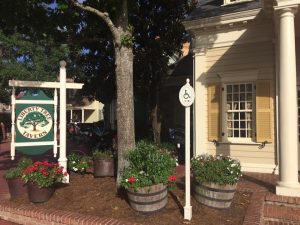 Once your inside, there is a gorgeous waiting area with a magnificent fireplace. Lots of seating, a place for kids to color while they wait, and on our particular visit, there was a place you could get free ice water. In the cold weather months they have free hot chocolate.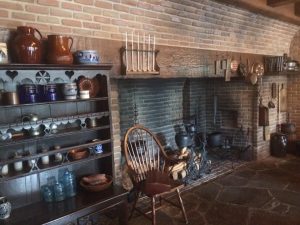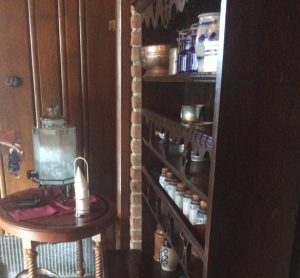 There is also a waiting area outside with benches just in case the inside area is filled. The menu is also located outside near this waiting area and entry way into the restaurant.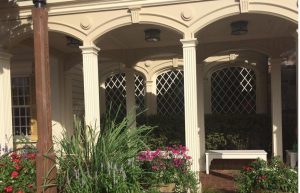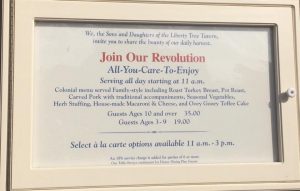 The dining room is also not as extravagant as one might think. There are lots of call backs to the era in the seating and wall decor and along the walls you will see photos of historical relevance. The plates and salt and pepper shakers are a nice touch, as well. I have been to Colonial Williamsburg and this feels very much the same which helped to lend to the authenticity.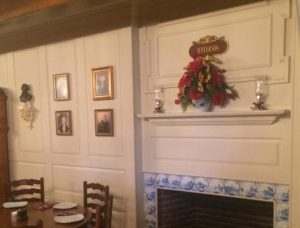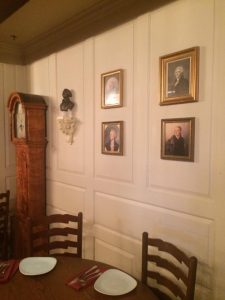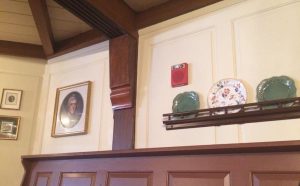 Now lets talk about the food, if I am being completely honest, Liberty Tree Tavern has always been one of the last places I would have ever chosen to eat on Disney property, so my experience here was a bit of a pleasant surprise! I used to avoid it because I am not a fan of character dining, but since they stopped it and my friends who had a good experience wanted to go, I figured why not?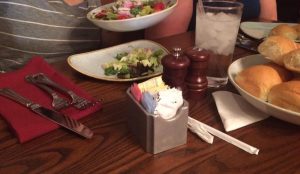 Dinner is family style and all-you-care-to-eat and begins with dinner rolls and salad. The dinner rolls are good but made great by the honey butter they serve with it. I am not a lettuce person so I did not eat the salad but everyone at the table raved about the dressing that was on the salad and the freshness of the salad ingredients.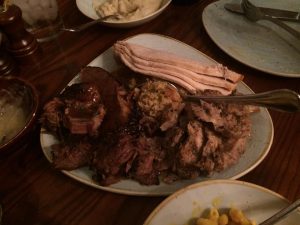 Next up was the main course and sides, which included pot roast, roast turkey, pork, stuffing, mashed potatoes, poultry gravy, mac and cheese, and corn (the corn was a seasonal veggie that can change). All the meats were good enough but the pot roast was the real winner here. It was so fantastic. Served with its own beef gravy, it was fall apart on the fork tender. This is also available on the lunch menu and I can not recommend this enough as even an ala-carte option. The pork was the least favorite because it had an odd flavor to it that most of us at the table just did not care for. The table next to us told us that they have had problems with the pork being dry in the past. If your not a big pork fan anyway, just ask your server to double up on the other meats and leave the pork off.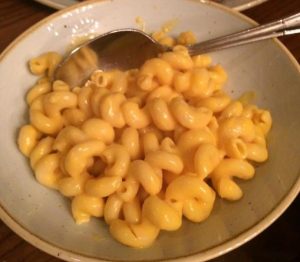 I did not get pictures of all the sides but lets talk about those next. Above is the mac and cheese which Disney says is "house made". Our group was torn, there were five of us and two of us did not like it and thought it tasted like Velveeta while the other three, including myself, LOVED IT!! I am not even a big fan of mac and cheese and I was thoroughly enjoying it. We went through about three bowls of this between the three of us who liked it. The Stuffing was also quite good, but really needed the gravy on it so it was not dry. I did not eat the mashed potatoes because of texture issues, but the table liked it very much and told me that it was made with red potatoes and had some of the skins in the mashed potatoes. The corn, which was made with red and green peppers and onions, was fantastic. We were all shocked at how good this corn was.
Dessert is called Ooey Gooey Toffee Cake and is so freaking fantastic. We were all going crazy over this desert. Its sort of like a chocolate chunk cookie that is really thick and does not taste like cake at all. There are toffee chips, chocolate sauce, and caramel sauce drizzled on top of vanilla ice cream. For years, the Ohana bread pudding has been my favorite Disney dessert but now, this has taken its place.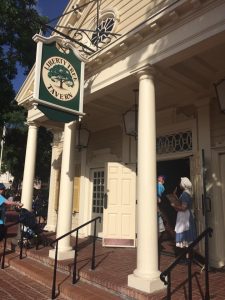 I definitely recommend giving Liberty Tree Tavern a try. While it is a bit polarizing when it comes to people's opinions, it is a great place to have a holiday style meal or have a good family style meal with family or friends and be immersed in Colonial America.
Deedee Herring