DisneyQuest's Place in History: Failure or Inspiration?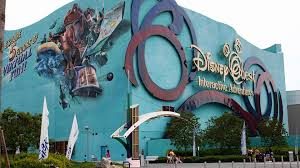 This past weekend on a trip to Disney Springs, I had the chance to share a few hours and offer a fond farewell to one of my favorite Walt Disney World attractions: DisneyQuest. The indoor interactive theme park has been a central feature in Disney Springs' West Side district. As the faded blue mouse house is now set for likely demolition and replacement, I believe it is worthy of pointing out the significant place its attractions hold in the evolution of Disney entertainment and the special place it has in the minds of the Generation Y.
DisneyQuest debuted in Lake Buena Vista in 1998, providing Disney's first true 'interactive' experience. Meanwhile, the rest of the world was evolving from traditional media into interactive media: video games. As the Nintendo 64, Sony PlayStation, and Sega Dreamcast were in a fierce battle at retail, Disney was attempting to get a piece of the pie with a five-story venue boasting a tagline that read "Virtual. Interactive. Unbelievable." As time as turned its state of the art experiences into artifacts, it is important to note how the attractions led to the development of the main theme parks most popular attractions.
The most popular attraction in the indoor theme park drew its inspiration from Disney's most famous thrill ride but with a virtual twist: CyberSpace Mountain. As you design your customized roller coaster you can create your own extreme experience with as many twists, turns, flips and falls as your heart (or stomach) desires. You're transported into a futuristic world with exciting detail and obstacles that create the ultimate thrill ride, that you, the rider, chose to experience.
If you so desired, you could take a copy of your rollercoaster home on DVD video and relive the experience. As Disney readies the 'Star Wars Experience' at Disneyland Park and Disney Hollywood Studios, the Millennium Falcon attraction will allow you, the rider to pilot the most famous starship in the galaxy.
But, Disney has said your experience doesn't end at the conclusion of the experience, your galactic record of performance will follow you as cast and characters note your record as you interact with them in the land. While this attraction will be the new gold standard of attractions, its Disney roots come from the ability for you, the rider to make a choice and create your own ride on CyberSpace Mountain.
New in Pandora: The World of Avatar you can adopt a banshee, adorn a Na'Vi tail and ears and create yourself as a member of the Na'Vi people. Using facial recognition and mapping software, your "Avatar" is created in action figure form. Don't forget, you could design your very own "Mutant Toy" from Sid's Room in Toy Story at DisneyQuest and have it brought to life (almost) with an 8-inch replica.
At Disney's Hollywood Studios and Disney's California Adventure, the beloved Toy Story Midway Mania takes its roots DisneyQuest's 'Pirates of the Caribbean: Battle for Buccaneer Gold.' As guests destroy vessels on the high three-dimensional seas, they use the same system that they destroy the Green Army Men plates or try to toss rings on our favorite cuddly three-eyed aliens. Disney Imagineering took the basic components of this experience and brought it to a full modern execution with ride vehicle movement, competitive score keeping and air and sound effects that makes it a hugely popular attraction.
For the generation of Disney fans that are just beginning to revisit the resorts as adults, this evolution of interactivity will be a welcome change from the traditional Disney dark rides and thrill rides. Our generation of 20 and 30-somethings have grown up playing video games and enjoying being able to make choices, controlling their outcome. The home game experience has evolved to astronomically advanced proportions and as all forms of entertainment: TV, Radio, Internet, Streaming and video games compete with traditional activities, Disney has foreseen the changing tide and evolved their attractions to appeal to the changing audience. I personally, can't wait to see what the future holds.
But as DisneyQuest fades into the Walt Disney World archives and it is ready to be replaced by the NBA Experience, it is important to note and appreciate the significant strides Disney Imagineering took in the development of the 19-year old theme park. In past years, the attendance has dropped to levels where the attractions are poorly maintained and many video games in the facility are inoperable. While Disney's plans for a dozen or more DisneyQuest parks across the country went by the wayside and the Orlando attractions will soon become scrap, true Disney fans know that DisneyQuest has been an integral part of the rides they love to experience. In the words of the most stylish pirate in the Caribbean Jack Sparrow: 'Not all Treasure's silver and gold mate.'