By Rebecca Toon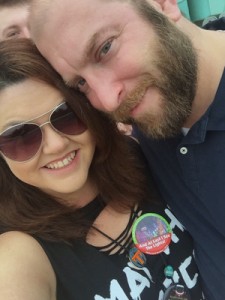 Part 2: New Year's Eve & The Monorail Drinking Tour
If you're joining our adventure in progress and would like to read Part 1, you can do so here.
New Year's Eve dawned warm and humid but still pleasant. I had made an ADR for breakfast at Sci-Fi Dine-In at 9am so we were up and out quite early. While I typically only visit Sci-Fi when someone specifically requests it, the recently added breakfast here has quickly become my favorite table-service breakfast. The menu offerings are diverse, the servings plentiful, and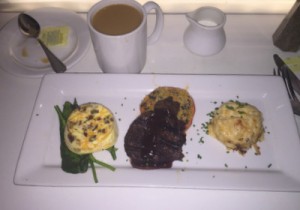 with a prix fixe price point, it's easy to budget. Additionally, the big-screen entertainment is quite fun!
While we didn't rush through breakfast, we didn't linger quite as long as we normally would, either. I knew I was taking a pretty big gamble with every moment that ticked by. The thing was, while Jon and I had no predetermined park plans for the day, the teenagers certainly did – and they were quite specific. They wanted to be in Magic Kingdom. Having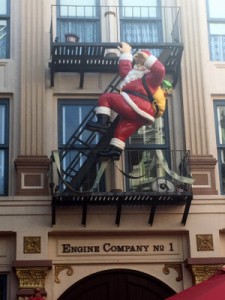 done my research, I knew that Magic Kingdom would reach capacity before the other parks, and sure enough, as we were waiting on our server to return with our check, I received an update that Magic Kingdom was in a Phase 1 closure. Phase 1 closures include denying entry to those with a single day, single park ticket. We went over the kid's plans, gave them some advice on getting to/into the park and sent them on their way while we waited for the check.
As for Jon and I, we paid the bill and wandered through Hollywood Studios for a bit before heading out and finding our way down the footpath toward the Boardwalk.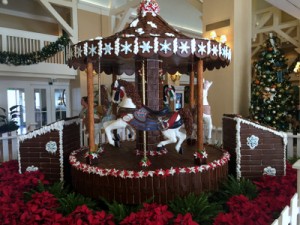 Over the years, I have truly grown to love the Boardwalk/Beach Club area. It's peaceful and relaxing, and I have spent many an afternoon wiling away the hours here. This trip was no different, Jon and I spent an hour or so sitting on the beach, checking out the holiday decorations and enjoying another cup of coffee. Baleigh texted, announcing they were inside Magic Kingdom and had set up camp. Excited for them, but having no desire to join them, Jon and I began discussing our plans for the day.
Jon, not typically one to enjoy crowds, (Translation: He hates crowds. Hates them more than…light beer.) had made only one request – that we steer clear of the parks in the evening. I was content to be anywhere on property, so we agreed that we would leave the parks when the crowds began to build and spend our time around the bars resort areas.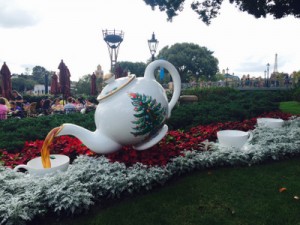 Around 12:30 we decided to wander over to EPCOT and have a drink(ish). We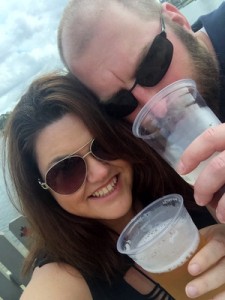 entered EPCOT through the International Gateway, stopping in at the Rose & Crown Pub for a beer. We chatted with a few other couples at the bar and made a few recommendations to some first-time visitors before heading back out and continuing to make our way around the World Showcase. Feeling a bit peckish, we decided to roll the fortune dice again and see if we could find seats at La Cava. The tequila gods showed favor upon us, and we were quickly shown to a table. If you've not been to La Cava, go. Right now. I'll wait here. (Don't forget to bring me back a margarita!) Once we settled in, I tweeted out that I was enjoying an avocado margarita and a few moments later, Hilda stopped by our table to say hi. If you visit La Cava, tell Hilda (or Javier, or Humberto, or Adriana) that Rebecca says cheers! We enjoyed a round of margaritas (ok, fine, we enjoyed two rounds of margaritas) along with a trio of dips and salsas before wandering back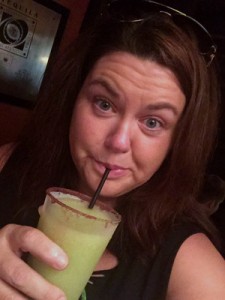 out into the squinting sunlight. Surprisingly, the crowds didn't feel horribly oppressive and we both agreed that, if the timing worked out, we'd consider coming back to EPCOT for fireworks later if it didn't reach capacity before then.
With that in mind, we decided to take a break from the park and boarded the resort loop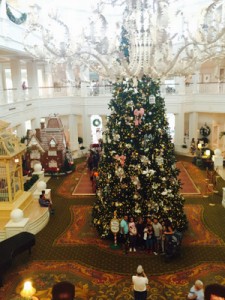 monorail for a tour of the monorail bars resorts, and a peek at the drink menus Christmas decorations.
Our first stop was the Grand Floridian! The Grand Floridian is, well, GRAND. The tree, the life-sized gingerbread house, the birdcage…they are all utterly breathtaking. After spending 30 minutes or so wandering about, we decided the weather was far too nice to be indoors, so we decided to sit outside and have a drink at the pool bar.
Back onto the resort loop monorail we went, admonishing each other to, "Por favor mantengase alejado de las puertas" (or something moderately close to that). Within moments, we were being bid aloha as we arrived at the Polynesian. Jon had not been inside Trader Sam's yet, as the last time we visited I ran into Lou Mongello on the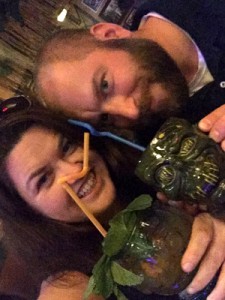 patio, totally fan-girled, and was utterly useless for the rest of the evening. (Sidenote: I did however learn that the patio of Trader Sam's is a wonderful place to watch the Electric Water Parade…and also stalk Disney podcasters. Bob and Tim, I'll be looking for you next time.) Today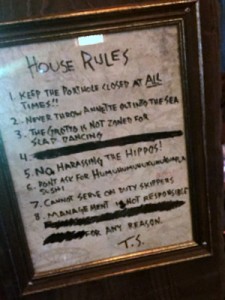 however, we were pleasantly surprised to find Trader Sam's perfectly populated. You know what I mean…empty enough to truly enjoy yourself, yet crowded enough that you don't feel guilty about day-drinking. As we were enjoying our drinks, one of the cast members dropped by and started chatting with us. Billy was a riot and stuck around chatting with us for well over half an hour. He was a wonderful reminder of how a friendly cast member can make even the best moments more enjoyable.
Departing Trader Sam's, we headed upstairs for some Polynesian Nachos (oh, and a martini) at the Tambu Lounge. After our nacho nosh, we made our way onto the beach to watch the 6:30 "New Year's" fireworks.
Before leaving, I stopped at concierge to inquire about a cast member recognition card for Billy and, while chatting with the cast member, realized we knew each other from Twitter (#tothebay). Altogether now, "It's a small world after all, it's a smal….no? Fine.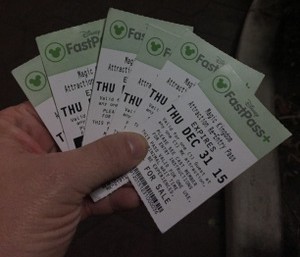 Once again on the monorail, we made our final stop at the Contemporary, where we met a few more new friends and enjoyed spirited conversation about Disney, DVC, and the Resort Loop podcast. Oh, we also enjoyed a drink (don't even act surprised). Afterwards, we decided to take the footpath over to the Magic Kingdom just so I could say I had been there. Along the way a young lady stopped us and asked us if we were heading to the park, upon answering yes, she thrust a handful of paper FastPasses into our hands and said, "HAPPY NEW YEAR!" Realizing the kids would love to have these, we continued over to Magic Kingdom to see if we would be allowed in. As fortune would have it, we were! A quick photo of the castle, a meet-up with the kids to hand off the fast passes, and we were back outside. Easy Peasy Lemon Squeezy. Jon never even know what hit him!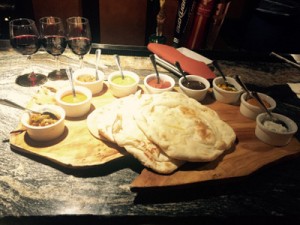 We headed over to the bus stop and boarded the bus to AKL for our 8:30 reservations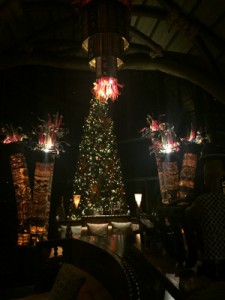 at Sanaa, a new favorite of ours. We asked to sit in the lounge, and since we'd been grazing all day and weren't overly hungry, we opted to share the bread service. (And possibly a wine flight. Definitely possibly.) Seriously though, that bread service? Just stop. UH.MAZING.
Following dinner, we decided to head back to EPCOT and, after purchasing a frozen Joffrey's Coffee concoction (with vodka), we made our way around the World Showcase and found a spot to view Illuminations. We settled in to a lovely spot in Canada and before you know it, they were starting the countdown. 10, 9, 8, 7, 6, 5, 4, 3, 2……….1…
[youtube https://www.youtube.com/watch?v=sEM0eoWFVp0]
HAPPY NEW YEAR!!!!
[youtube https://www.youtube.com/watch?v=A1Bpgb4aEhw]
Up Next…Part 3: The Aftermath