By Sandy Symianick
On our last trip to Walt Disney World Resort this past August, we didn't set foot into a Disney Park.  Not a tippy-toe, not a finger.  No part of our bodies went near the ticket turnstiles with their happy little, green, glowing Mickey heads.  For a Walt Disney World fan this might seem like sacrilege, but we would contend that this was one of our best and most restful Disney vacations ever!

We recently became Disney Vacation Club Members, and while visiting Walt Disney World every year is my idea of a perfect vacation, my husband is a relaxing beach kind of guy.  He loves all the attention to detail and theming that the Imagineers have thrown into the Parks and Resorts, but also loves the sound of crashing waves.  As a consequence, one of the great aspects of buying DVC is the possibility to book trips at Disney's Hilton Head Resort, Disney's Vero Beach Resort and Spa, and Disney's Aulani Resort and Spa – a perfect balance of both Parks and Beach for our family's vacation needs!
As we had just been on an intense 10 day Parks vacation in December 2015; we decided to significantly slow down our August 2016 vacation.  Neither of our kids (Jakob 7 and Evey 5); had ever been to the ocean.  Airfare to Hawaii was not in the budget, so the next logical destination was either Disney's Hilton Head Resort, or Disney's Vero Beach.  Ultimately, with a few restaurants on-site, wonderful little kids programming, mini-golf, an amazing  waterslide/pool area, and the beach right at it's doorstep; Disney's Vero Beach became our preferred destination for our first family beach vacation.  (shhhhh…  It's also driving distance from WDW).  We booked an Inn Room with Ocean View and then began the long wait from February until August when we would be at a "Home Away From Home" for the first time.
A few months after booking Disney's Vero Beach for the full 9 days of our vacation, we were chit-chatting with my in-laws about it, and started researching for them to join us on our trip.  They've never been to Walt Disney World…  The logical step for the Disney parks fan in me was to look at converting some of those beach days into time at Walt Disney World for their benefit  – right???  Animal Kingdom Lodge popped up as one of the resorts that had available rooms.  While the in-laws didn't end up joining us (don't feel bad for them – they went on a road trip through France, Italy and Austria instead.); the idea of time at Animal Kingdom Lodge with Giraffes and Zebras at our window stuck.  We switched 3 of our nights from the Beach to the Lodge.  Here was the caveat – no Park tickets!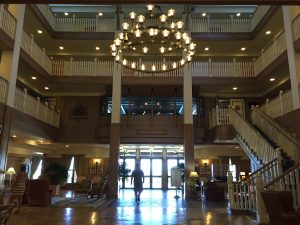 Disney's Vero Beach Resort, while not in Walt Disney World proper is a magical place none the less.  Entering the lobby you pass a veranda with rocking chairs and hear ragtime playing in the back ground just like on Main Street.  A light floral and orange scent wafts over you as you enter the 4 storey tall lobby, and then you see it…  The ocean right in front of you out through the back door!  The pool deck is off to the side of the Inn Building and is Mickey shaped with a corkscrew waterslide wrapped around a light house.  There's even a Pirate Ship themed water play area for the little ones! Perfect for a relaxing vacation with top-notch Disney service!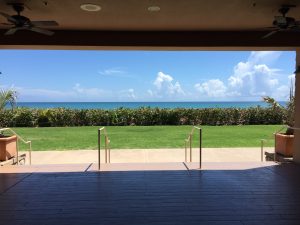 On most days, the decision as what to do at Vero Beach was a difficult one.  Do we go to the beach in the morning, or the pool? Do we go to both the pool and the beach before lunch, or only one?  However, for those of you folks who like a more animated vacation, the planned activities are plentiful!  Through a lovely Peter Pan themed tunnel (with the 'you can fly' music piped in to boot!), the resort boosts lovely grounds that house a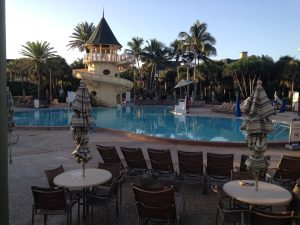 number of recreational activities.  There are tennis courts, a basketball court, a Beach Volleyball court, a Soccer field, an archery range and a bunch of walking trails.  Equipment is available at Eb and Flos' on the pool deck.  For a slight fee, you can rent bicycles or play mini-golf at the resort's private mini-golf range, again through Eb & Flos'.  The resort also has a number of campfire nights every week with free 'smores and great sing along songs.
On Campfire nights, they also offer the Kids' Discovery Club for a fee.  Let me put it this way for anyone travelling with small children – 3 hours of quiet for parents!  We went for a lovely drink and a light dinner on the balcony of the Green Cabin Room , and then enjoyed walking the grounds and sitting by the beach with Dole Whips.  Did I mention they have DOLE WHIPS!?!?!  The kids seemed to enjoy the Kids' Club, although details from a 7 and 5 year old are always jumbled…  We think they played soccer, and a few variations of tag, along with mini-golf, and came back with some crafts.  They were very excited to see the Kids' Club Cast members in charge of the Campfire that evening and jumped up to volunteer with them at every chance.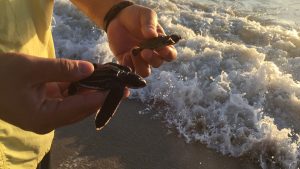 Other fun stuff we enjoyed was the turtle 'talk' presentation given in the recreational hall, which prompted us to wake up early the next day to see the baby turtle release at the beach.  The kids enjoyed an 'unbirthday party' given in the rec hall, along with the waterslide races, the Mini-golf (we played everyday) and the poolside beach party with give-aways of beach-balls, sun-visors, and sunglasses!  They also enjoyed sitting in the rocking chairs on the back veranda, listening to 'Unca-Banjo' strum out some tunes with ocean waves in the background.  While both Shutters and Olivia's were closed for renovation while we visited, we did still participate in Goofy's Beachside Breakfast – a great way to get a little character time in with Goofy and Donald Duck!  A Goofy and Donald Pirate themed dinner is also usually offered at the resort, but with Shutters under construction, this activity was unavailable at the time of our travel.
Then it was off for our visit to 'the World'!  We chose to use our transition day to visit Legoland Florida and arrived at Animal Kingdom Lodge –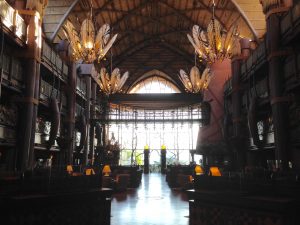 Jambo House around 8pm.  What a lobby!  Warm wood tones make what is an enormous space still somehow feel cozy.  All that amazing African art surrounding you, and of course the spectacular floor to ceiling windows overlooking the Savannah directly ahead!   We had opted for a Savannah room, and while it was disappointing to not be able to see the animals the night we arrived – they were out in full force over the course of the next 3 days.
Instead of going to the parks, we decided to explore all that the Animal Kingdom Lodge had to offer, and to organize a few other little surprises along the way.  I have to say, drinking my morning Joffrey's coffee watching the sunrise over the Savannah was lovely.  Animals meandering about, as they slowly began their day; and there was a quiet pleasure in just being able to sit there, not having to worry about catching a bus to the Welcome Show at Magic Kingdom, or rope drop at any of the other parks.  I could just sit there, letting the rest of the family sleep in, letting the throngs of people run off to the parks, while I waited for the hotel to empty out and be ours to explore.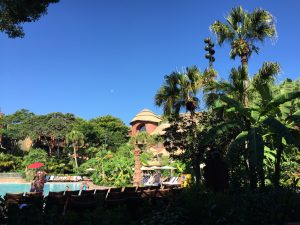 At the resort, we enjoyed both the Uzima and Samawati Springs Pool areas.  The zero-entry access at both pools is great for little kids to splash in, and both waterslides are a fun ride.  Between the pools, we preferred Samawati Springs because the waterslide was a bit longer and had more twists and turns to it.  The splash pad area was also great at Kidani Village, although, our kids really enjoyed lying down in the wading pool at Jambo House like starfish on their backs – it was that shallow!
Interspersed with our pool hopping, we also participated in the cultural and animal activities that are offered for free at both Kidani Village and Jambo House.  Known as 'bead' activities (as you earn a bead for your bracelet or necklace with every activity you complete) – the kids loved learning about how water fowl feed; how an ecosystem works; how the animals are kept entertained with special food enrichment boxes; and how to play the African drums!  We made rubbings of the floor medallions in the lobby, and I thoroughly enjoyed exploring all the display cases of African art.  Some of the time was also spent just sitting out on our balcony watching the different animals cycle through the savannah and checking them off our list of animals provided by the lodge.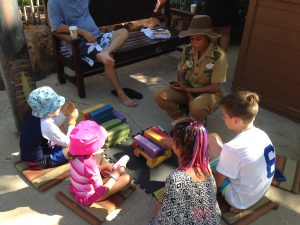 We also had the pleasure of dining at all the resort restaurants!  Jiko was by far our favourite, enjoyed on our 'date night' while the kids attended Simba's Cubhouse.  We decided to opt for more of a tapas type meal, and ordered a bunch of appetizers, and followed our server's paring suggestions for African wines and beers.  We weren't as impressed with BOMA however.  While all the food we sampled was very yummy, the 10 minute queue for the meat section each time was a little tiresome, especially when trying to keep the little ones entertained at the table.  We found the ordering system at the Mara for lunch a bit long – wait in line to see a cast member to order and then you're handed a pager to wait another 20 minutes for your food to be ready – a bit long for quick service.
Our experience at Sanaa was fabulous, but this was also in part to having signed up for the "Dine with an Animal Expert" lunch offered on select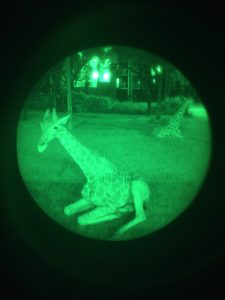 days.  Essentially, it is exactly what it sounds like – dine with an animal expert who can answer all your questions about the animals housed at the Lodge.  There is a set menu – it was delicious, especially the famous bread service!  We were lucky enough to have one of the same animal experts we had met at a bead activity, so the kids didn't go through any shyness and asked a surprisingly lot of questions.  Our dining party was only 10 people, so it made for a very intimate and educational meal.  The best part though according to our son, was being able to feed the reticulated tortoises at the end of the experience.
In addition to a fabulous supper at Jiko on our date night, we also went on the Starlight Safari at Kidani Village.  Incredibly educational, the proximity to the resting animals is quite awe inspiring.  Animals would come right up to the safari truck, and while the night-time vision goggles were a fun gadget, I didn't find much use for them – I could see everything quite well once my eyes adjusted to the dark.  The animal expert we had on our tour had great information about the animals to share.  The only aspect that was  a bit difficult to manage about the tour was that it sets out quite late.  By the time we picked up the kids at Simba's Cubhouse it was almost 11:30pm!  But then again – we didn't need to be at rope drop the next morning 😉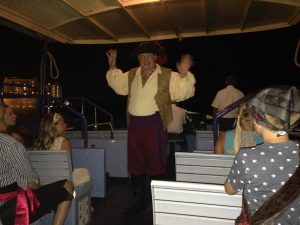 Our last little splurge on this trip, was to attend the Pirate and Pals Fireworks Cruise.  I cannot say enough great things about this activity for younger kids!  I covertly packed Pirate gear for the kids to change into later in our backpack, and we headed off to the Contemporary.  Upon arrival we were given a scavenger hunt to complete around the Grand Concourse and once done, we were welcomed into a very pirate-themed ballroom with an awesome assortment of treats!  There were beverages, cakes and cookies, popcorn and cotton candy and a whole fridge full of Mickey Bars!!!  Best of all – Captain hook and Mr. Smee were there to greet us!  Then it was off to the cruise hosted by a scurvy Pirate named Patch.  Sing-alongs and trivia games ensued while we found an optimal position to view the Electrical Water Pageant on Bay Lake, and then sailed into position on the Seven Seas Lagoon in front of Magic Kingdom to watch Wishes!  Upon our return to the dock, Peter Pan was waiting for us and chatted up the kids.
Would we opt for another Non-Disney-Parks Disney vacation?  In a heartbeat!!!  One of Walt's guiding principles for the 'World' after-all,  was for it to be a vacation wonderland for families to enjoy together as a family.  Our vacation was certainly that!
Sandy Symianick