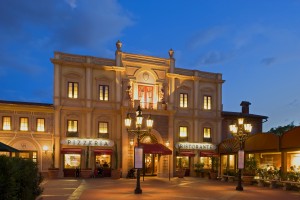 Put your napkin on your lap and keep your elbows off the table (especially if you are at the 50's Prime Time Cafe)! We talk about what our listeners' favorite meals have been while visiting Walt Disney World! The "Loopers" came through and we had a great discussion about food! Be warned, you will be hungry by the time the show is over!
Its Joffrey's 30th anniversary of roast to order artisan coffees. This blend is a masterful mix of Papua New Guinea Nebilyer Valley AX and Organic Bali Blue Moon beans, providing a zesty citrus essence with crisp winey notes that give way to a wonderful chocolate finish. They are offering 30% off this coffee only, coupon code: ANNIVERSARY through 3/31/15.
Joffrey's Coffee and Tea were also very generous by offering our listeners the special code "Looper" for 20% off all of their coffee and tea products! Including the Disney Parks and Resorts Specialty Coffee Collection! Free Shipping on all orders over $50!
When choosing the right fork: "Please stand clear of the doors"!
Thank you for downloading Episode 201 of ResortLoop.com!
This episode of ResortLoop.com is brought to you by the Joffrey's Coffee & Tea Company!
Email or call in your own special open for the show!
Voicemail: (414) WDW-LOOP