Which do you prefer?
Butterbeer versus LeFou's Brew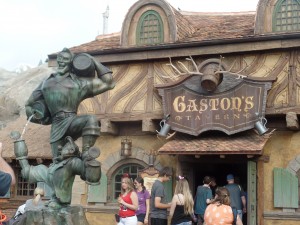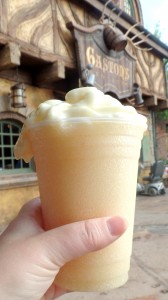 Just about every time I step into Magic Kingdom I want to run right back to Gaston's Tavern and get a big cup of LeFou's brew.  This drink is an amazing cup full of frozen apple juice topped with foam that has a citrus tartness and a hint of marshmallow topping.
Down the road from Disney World, you can find another drink called Butterbeer.  Butterbeer is located at Universal studios in the Wizarding World of Harry Potter.  Even though this drink has the word beer within the name it does not contain alcohol.  Butterbeer was described by the team member as shortbread cookie and butterscotch.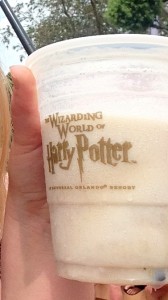 I have had LeFou's brew many times and Butterbeer once before, but the family decided we wanted to challenge the two drinks and see which is better.    We first went to Magic Kingdom and purchased LeFou's brew.  You can purchase this in a regular cup for $4.49 or a souvenir mug for $9.99.  I of course love LeFou's brew and I felt that my vote was already leaning more towards this choice.  My husband also loved LeFou's brew, but my 11 year old spit it back out in disgust.  That afternoon we made our way to Universal Studios to take on Butterbeer.  We decided to go into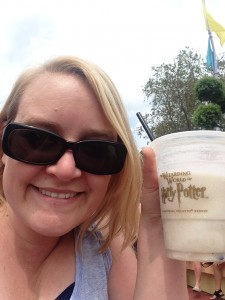 Islands of Adventure to purchase the drink.  You can also purchase Butterbeer in a regular cup or souvenir mug.     The price for the regular cup is $4.99 and the souvenir mug is $12.99, so as you can see the pricing is a bit higher for Butterbeer.  As you walk into Hogsmeade there is a Butterbeer cart, this line is always so long.  You can also purchase this drink in the restaurant right beside the cart called The Three
Broomsticks, which I recommend because the lines are smaller.  The results of this drink-My 11 year old loved this drink over LeFou's brew and my husband hated it.  I thought that Butterbeer was very good as well, but after about 20 sips I was feeling the tummy ache.  While this drink is delicious you better have a mega sweet tooth.
The winner in my heart is LeFou's brew!  It has the best combination of sweet and tart and the price is just right.  I challenge all of you to try them both and share your thoughts.  
Christina Black