Pros and Cons of the Magical Express transportation service
By Chris Malek
If you've ever vacationed at a Walt Disney World resort hotel, you have undoubtedly seen information on or used Disney's Magical Express bus service. If you are planning your first trip to WDW, I hope to be able to provide you with some information on whether the service is a good fit for you and your family. Being a habitual maker of "lists", I have decided to create a top 5 Pro and Con list regarding the Magical Express.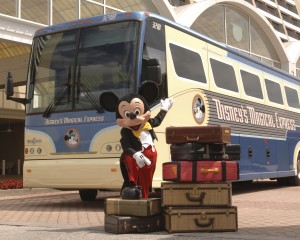 Pro –
1. The service is completely FREE. If you choose to use the bus service, Disney will send you an information packet and luggage stickers roughly 1 month prior to your trip (but will rush deliver the packet if the planning of your trip occurs less than 1 month from your departure date). Disney will then arrange for your pickup and delivery via travel coach bus from the Orlando International airport (MCO) to your WDW resort. Your checked (and tagged) luggage will also be delivered to your room within a few hours of your arrival. You can also get your boarding pass and recheck your luggage at your resort and re-board the travel coach for a return trip to MCO on the last day of your vacation. Tipping your driver is optional, but appreciated.
2. Disney will handle all your heavy luggage. Traveling with kids is challenging enough. Adding on the additional responsibility (and challenge) of totting your bigger baggage, while still being responsible for good parental decisions, could test the limits of the best "Brady" family in anyone.
3. Being able to watch the well-timed Magical Express video is a great way to start your vacation. I may have seen this video 50 times in my life (and yes, I have watched it on YouTube) but watching the video on the Magical Express motor coach has useful information that you might not have received otherwise.
4. The Orlando International Airport can seem intimidating to a new traveler, however, after a few times you begin to appreciate the layout and understand how to navigate the airport better. I have often felt that my vacation begins the moment that I close the back door of my house on the day of my arrival. But realistically, the vacation Disney immersion begins the moment you see the directional signage for the Magical Express at the airport. From that moment forward, you feel like your "real life" worries lessen and your relaxation level increases.
5. Travel can be stressful. Packing the luggage, arriving at the airport with enough time, TSA, navigating the airport, waiting for boarding to start on the plane, finding a comfortable seat, etc., etc., etc., can all raise a person's anxiety level to virtually panic stage at any moment. Disney has alleviated some of the stress with an easy-to-understand information mail packet detailing the wheres and whens of your vacation. (Besides, who doesn't like receiving mail from Mickey!!!) Lastly, it would be virtually impossible to get lost at MCO with the copious Magical Express direction signage from any terminal.
Con –
1. You are quite limited in your vacation options. Understanding that Disney is a business will help you to understand the motivation for the complimentary pickup and delivery service. Unless you are going to hail a taxi, use Uber, or rent a car later in your vacation, you are confined to vacation with Disney offerings. Meaning that more or less, Disney will receive 100% of your wallet share while you are on vacation. Unless you arrange for additional transportation, a vacationing family would not be able to experience any of the other great Florida attractions (Universal, Sea World, Discovery Cove, NASA, Busch Gardens, the ocean, etc.) The same could be said for your dining options. However, delivery food delivery service options like Garden Grocer, Amazon, and the local various restaurants (please check with your resort concierge for recommendations as there has been a recent rash of pizza delivery scams) can deliver several meals worth of food that will help offset the high cost of continued Disney dining.
2. Your luggage may arrive at your resort significantly later than you will. We have learned several hard lessons with the luggage service for the Magical Express. For example, pack the following items in your carry-on (as opposed to having to wait for them to be delivered)…swimsuits, necessary medicine, Disney gift cards, Disney pins and lanyards, and your phone charger). What better way to unwind and refresh yourself after the plane trip than a dip in your resort pool…until you realize that you have packed it in your checked baggage…and it arrives 3 hours later!!
3. You are limited in your travel options between resorts. Do you like to resort hop? If so, you should be aware that once you have been delivered to your hotel via Magical Express, you will have to arrange alternate transportation (other than the Disney bus service) to travel from resort to resort. The regular Disney bus service WILL pick you up at regular intervals from your resort, but the regularly scheduled drop-off locations only include attraction locations. For Example, buses do not travel between the Contemporary and Saratoga Springs.
4. Speaking of the resort buses…have I mentioned speed? Disney is well organized. Buses run on regular schedules, and though delays can happen, I have found that you can pick up a bus to your destination within roughly a 10 minute wait at the resort bus stop. As regular as the bus service is, however, travel times between your resort and your theme park destination can be extremely long. In order to achieve maximum passenger efficiency, resort buses can be scheduled to stop at MULTIPLE resorts before reaching their final destination if they are part of a historically slower and less crowded route. These resorts are usually grouped by proximity to each other and can be very difficult to count on for a return trip. For example, it once took my family almost 1 hour to travel from the Wilderness Lodge Villas to Downtown Disney (after stopping off at the Grand Floridian, and Fort Wilderness). By car, I could have arrived within roughly 10 minutes. I have always felt that on vacation, your time is money. You have a limited amount of resources (time)…why are you wasting it on a bus route?
5. The return trip to Orlando International (MCO) via the Magical Express is scheduled 3 hours prior to your flight time. The return trip usually takes between 35-45 minutes, depending on resort stops. That still puts you at the airport almost 2.5 hours ahead of your flight time. Now, I know that navigating the airport and TSA can take a little time, but I cannot recall a time when we didn't have to kill a minimum of 1 hour in the terminal. This can be very difficult for families with infants and toddlers. Thank goodness for McDonald's and the Disney "Earport" store!!
In conclusion, my family has traveled by rental car and Magical Express and have enjoyed them both. Each offers a different set of vacation parameters which can either enhance or detract from your stay. When deciding whether to utilize the Magical Express service, I have found that the choice becomes obvious once I have asked myself these questions:
Am I willing to use bus transportation (or boat) to take me anywhere that I want to go in Walt Disney World for the length of my vacation stay?

Is there any place outside of Walt Disney World that I will want to visit (groceries, other theme parks, shopping, etc.) that does not deliver and I cannot pick up locally?

Am I comfortable enough with the "ins and outs" of car rentals, taxi service, and ride-sharing companies that I would be willing to add the extra costs onto an already expensive vacation?
Feel strongly one way or another about the Magical Express? Please contact me on Twitter (@disneychicago) or Facebook (Chris Malek). I look forward to hearing from you!
Chris Malek