Hi Looper Nation!
My name is Monico and I'm thrilled to be joining the Resort Loop blogging team.
A Little Introduction
Before I launch into my first article I think an introduction is appropriate. I'm a professional photographer, a designer, a writer and an instructor who lives just outside of Washington, DC. I spent over a decade working in the high tech division of Ford Design North America (near Detroit, Michigan) where I learned from some of the worlds best designers. Now that I live in Virginia I get to see (and photograph) current events and historic places. When I'm not working I'm out exploring National Parks, Civil War battlefields and some seriously amazing museums. I've been super lucky to receive media access to some seriously cool places in my life and getting to share my experiences is a privilege unlike anything I can describe.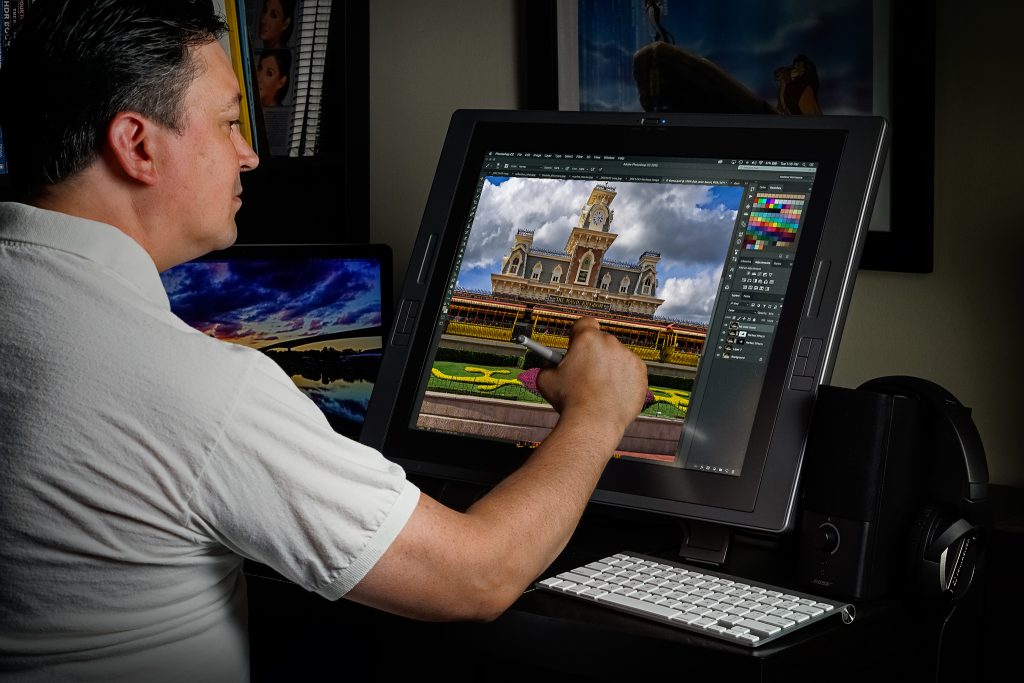 In addition to photography I'm a long-time Disney fan who loves a good cup of coffee so writing for my friends at Resort Loop feels like a natural fit for me…
For the last 30 years I've been taking pictures and I hope to help members of Looper Nation capture better images when they're on vacation – no matter where your travels take you. I'll be sharing some of my favorite tips and tricks for taking great pictures on a Disney Vacation but I believe they'll work anyplace you go – no matter what kind of camera you use. As someone who lives near Washington, DC I know a bit about taking pictures when you're surrounded by other visitors. I've made a career out of "getting the shot" and what I've learned about travel photography in my own back yard really works in busy theme parks.
If there's one thing a Disney Park and Washington, DC have in common it's that no matter when you visit there's going to be crowds (and some times of the year are considerably busier than others). Taking pictures when there are people everywhere is the norm in DC – and it can sometimes make a picture that much better…
Before I start sharing some photo tips and tricks I want to share some trip reports and restaurant reviews from my most recent visit to the Walt Disney World Resort.
Whenever I go to a Disney Park I'm never alone. Often I get to see different friends of mine who call Florida or California home but on every trip I'm there with my amazing girlfriend, Deb. If I'm the creative "Walt Disney" type in our relationship then she's definitely the "Roy O. Disney" type that keeps track of all the details and makes things happen (as well as keeping me solidly in check). Together we make a great team and there's no doubt that my many adventures wouldn't be possible without her.
While the photography may be mine, the opinions I share will often be a product of our combined experiences. After all – Disney Theme Parks are always more magical when shared with someone you love.
Our Fall 2016 Disney World Adventure
Deb and I took our annual fall vacation (our third visit to Disney World of 2016) not too long ago and we had a chance to experience a bunch of new things (as well as revisiting a few we haven't done since our first visit). Fall has always been one of our favorite seasons since we love the decorations, the crowds are a bit lower and sometimes (if you're lucky) you can get free dining…
On this trip we hit all four of the theme parks and we visited Disney Springs for the first time since it's big re-branding (I still slip up and call it: "Downtown Disney"). We visited lots of new places, including Jock Linsey's Hanger Bar, and we stopped in to see my friends at Joffrey's Tea Traders. I'll be sharing reviews of both soon. Overall this unique area has received a pretty substantial update from the last time we were in Downtown Disney/Disney Springs.
We've been skipping the Animal Kingdom for quite a while (all the construction walls bummed us out) but with the addition of new night time activities we made a point of not skipping it on this trip. As a wildlife photographer (and someone who is pretty active when it comes to conservation) I've always been a huge fan of this park. If there was one thing I didn't like about AK it was the early closing time. On this trip the park was open late and I'm so happy to say that the park really comes alive when the sun goes down. There's still some construction but now it's back to being one of my favorite places in the world. I'll have a lot more to say about Disney's Animal Kingdom in future articles.
Hollywood Studios is, without a doubt, a park in transition. At best it feels like 1/2 of a theme park (that still costs you full price) but we did spend a full day there. If you're a Star Wars fan then you might love everything they've done to distract you from the fact that most of the park is obscured behind construction walls. On this trip we got to try the newest track on the Toy Story Midway Mania ride and we attended the Star Wars desert party (I'll be going into detail about these two experiences in my next two articles).
Something we haven't done since our very first visit to Disney World is attend the "Mickey's Not So Scary Halloween Party". This year we decided to give it a try to see if it was as good as we remembered. Spoiler Alert – it didn't completely live up to my memories and I have some ideas why that is. I really enjoyed many of the special activities (the fireworks and parade were great) but unbelievably long waits to meet some unique characters was a total downer. Our entire Halloween Party experience will be a subject for an upcoming article.
Epcot has always been a favorite park of ours. We don't have kids and we love to travel so Epcot is our kind of park (especially the World Showcase). On this trip we rode the all-new Frozen Ever After, visited the new Anna & Elsa character spot and rode the brand new "Soarin' Around the World". These new Epcot experiences will be the subject of their own articles but if you're looking for the short version, we loved the new Frozen ride (but hated the fact that it was breaking down so much) and we both had massive issues with the new Soarin'. We also booked an early breakfast so I was able to take some pictures inside Epcot with nobody in them. That was absolutely AMAZING!!!
Finally – we're huge fans of new dining experiences and on this trip we tried both the Skipper Canteen and Tiffins. I'll have full reviews of both restaurants posted soon (Spoiler Alert – Tiffins just might be the best dining experience I've ever had).
Keep an eye out for my next article where I'll be sharing our Hollywood Studios experience including the new Toy Story Midway Mania track and all of the Star Wars additions.
By the way – if anyone is interested in seeing some pictures from our many Disney adventures we've set up a new Instagram account that you can follow here: instagram.com/deb_and_monico_at_disney
Thanks again to Tim, Bob, the Resort Loop Blogging team and all of Looper Nation for giving me an opportunity to share a few stories and some pictures. I can't wait to hear what everyone has to say about them.
Monico Havier